28th International Jewellery Tokyo 2017
Gemmology and Diamond Tutor, Julia Griffith FGA DGA EG, and Gemmological Instruments Manager, Samantha Lloyd FGA EG, travelled to Tokyo to represent Gem-A at the 28th International Jewellery Tokyo (IJT) 2017 show, held 23-26 January 2017.
IJT is Japan's largest international trade show with over 1,300 exhibitors showcasing their wares at the Tokyo Big Sight Exhibition Centre. The show offers an excellent opportunity to engage professional and amateur gemmologists with Gem-A courses and establish connections between Gem-A HQ in London and members based on the other side of the world.
The Gem-A stand at IJT 2017 was quintessentially British and visitors to the stand could purchase gemmological books and equipment as well as sign up for membership or courses. The Gem-A stand was unique at the show, as most offered retail or grading services to visitors. The space was staffed by Julia, Samantha, Naito Ayako, Gemmology and Diamond Tutor and representative of Gem-A in Japan, and some much appreciated volunteers, who all offered a friendly face to those passing by. 
During the show on 25 January Julia gave a seminar on 'The Colours You Can't See; Exploring Fluorescence', which Ayako translated into Japanese. This talk was well attended and received positive feedback. It was a practical hands-on seminar where attendees were encouraged to view multiple samples and had the opportunity to 'oooh' and 'ahhh over sensational slides curated by Julia.  
Participants were taught what fluorescence is, the science behind it, the history of it, how to test for it and shown some gemmological examples. The lecture mainly focused on diamonds and how fluorescence can be used to distinguish between natural and synthetic diamonds, as well as spotting simulants. 
Participants learned of more artistic uses of fluorescence, such as Maria Kovadi who utilises the fluorescence of diamonds in her jewellery collection, YouVdiamonds. 
Also shown was the aesthetically pleasing display of fluorescent minerals delightfully named the 'Magic Spheres', a collection put together by Rene Bossevain. These are suspended from the ceiling within the Crystal Caves Museum in Queensland, Australia.
A Gem Central evening on composites also took place on 25 January. This hour and a half practical based session, which was also translated into Japanese by Ayako, allowed Gem-A members and students based in Japan to experience Julia's vast gemmological knowledge in person. This talk had an impressive turn out and was by all accounts a great success. 
Julia Griffith Presenting The Colours You Can't See; Exploring Fluorescence. Image courtesy of Ayako Naito
Those that attended the evening discussed what a composite is, and why composites are made in the trade. They heard about common composite examples and what they are made of. One example described was soudé stones. Attendees learned ways to detect these composites and were shown examples of soudé stones, where the colourless crown and pavilion are attached together with coloured glue to imitate other gemstones and cause the colours shown below. 
Julia also described garnet-topped doublets (GTD), and how to identify them. This photograph (below), which was taken by Julia, shows the contrast in lustre between the almandine garnet top and the paste pavilion at the junction plane where they join on the crown facets. A feature only seen in this type of composite, excellently illustrated.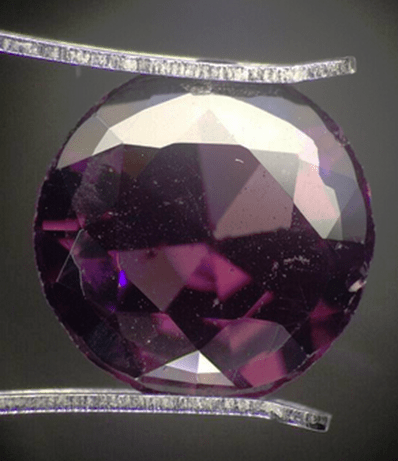 While in Japan, Samantha commented on the exciting opportunity to experience a different culture and meet Online Distance Learning (ODL) and ATC students. She particularly enjoyed meeting one Japanese Foundation ATC student who told her they had signed up to the practical course workshop in London, just for the opportunity to visit Gem-A HQ.
Samantha also had fun on the monorail journey to the Tokyo Big Sight Exhibition Centre, which offers views of Mount Fuji. She also met Emi Okubo FGA, granddaughter of famous author Akira Chikayama who wrote The Dictionary of Gemstones. This useful reference guide for all keen gemmologists is available to purchase from Gem-A's Gemmological Instruments shop. 
IJT is an important event which allows Gem-A to share our extensive gemmological knowledge with other enthusiasts. Many visitors to the stand expected answers that would immediately enable them to identify specific stones, but what they left with was the understanding that the study of gemmology is very nuanced, and gem testing is a complex discipline. The more you learn about it, the more interesting it becomes. ■
Gem-A are already looking forward to the 29th IJT scheduled for February 2018.
If you are interested in attending this event click here. 
Interested in finding out more about gemmology? Sign-up to one of Gem-A's courses or workshops.
Interested in finding out more? Visit Gemmological Instruments where you can purchase Akira Chikayama's book or by contacting instruments@gem-a.com.
Cover image Gem-A Stand IJT 2017. L-R Sam Lloyd, Ayako Naito, Emi Okubo, Julia Griffith. Image courtesy of Sam Lloyd