Carmen Garcia-Carballido FGA DGA L.Geology MSc. EurGeol travelled to the southern hemisphere to find out more about the opals and sapphires of eastern Australia.
To test the skills acquired in two years training as a gemmologist with Gem-A, my husband planned a three week field trip to the sapphire and opal fields of eastern Australia.
We flew from Aberdeen to Sydney, hired a motorhome and headed into the outback of New South Wales (NSW) and Queensland. However, cyclone Debbie making landfall on the coast put paid to our plan to visit a gem dealer in Yepoon and check out the Marlborough Chrysoprase. To keep safe we stayed inland, driving 4,500 km in 13 days and camping at a different site every night.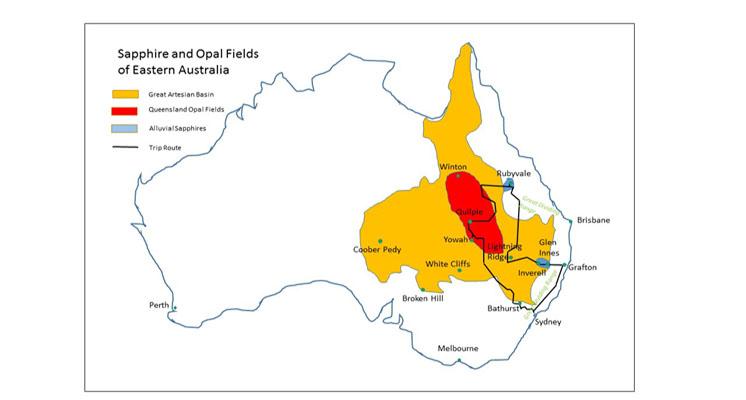 Map of Australia showing key sapphire and opal locations and the field trip itinery. Image by Peter Scott-Wilson.
Two days from Sydney, our first gem field was Glenn Innes where we tried fossicking for the first time. A petrol station sold us a 'bucket of dirt' and rented sieves for AUS $20. Washing the dirt off, we found our first sapphires and zircons. We admired Robert Cook's collection of locally mined parti-colour sapphires that he cuts in his shop at the Visitor Information Centre. After some purchases, my husband had to drag me out of Robert's shop.
60 km west at Inverell, we met Jack Wilson, who owns a longstanding sapphire mine and his wife Dallas, who designs lovely jewellery with blue sapphires from his mine. I bought some untreated rough blue sapphires with the idea of learning to cut them myself. Jack explained the host rock (i.e. the primary deposit where the sapphires formed) has not been identified. These sapphires are found in secondary, alluvial deposits.

Rough untreated sapphires from Jack Wilson's mine. L-R 10.21 ct and 6.54 ct.
After a long drive west, roads littered with dead kangaroos took us to Lightening Ridge, famous for its black opals. The town in the desert appeared empty. Tourists do not arrive until Easter. Only emus stay all year round. We camped in a site by the artesian baths, a wonderful way to relax and learn about the immense subterranean artesian system that probably played a role in the development of the opal fields. We visited an underground opal mine and were allowed to fossick for opals on the 'mullock heaps' of old spoil outside the mine. My husband found a small sample but I was not so lucky.
Next day we headed northwards. I was disappointed I could not buy any black opals in Lightning Ridge because the shops were shut, but a few kilometres before crossing into Queensland, a roadside sign led to the house, shop and workshop of Greg Armstrong. An opal miner, cutter and stone setter. Greg laid out his collection of white and black opal (3) and when we mentioned we were learning lapidary, he gave us a bag of 'potch' opal to practice cutting at home.
Boulder opals from Quilpie, mined and cut by Eddie Lunney.
Over the state boundary, we headed north for St. George, Roma, where the oil and gas industry's mega coal bed methane (CBM) project produces gas from extensive Permian and Jurassic coal deposits to supply the energy needs of c. 90% of the homes in Queensland, and the location of the famous Carnarvon Gorge.
We drove inland to central Queensland to The Gemfields area, which includes the localities of Anakie, Rubyvale, Sapphire and Emerald, where green gemstones initially taken for emeralds were found in about 1880, when drilling for water, ahead of railway construction. Green and yellow sapphires and zircons have been mined in this area since the 1880s.
At the Sapphire Caravan Park we watched wallabies and lorikeets being fed. Taking Jack Wilson's advice, we looked for Peter and Eileen Brown at the Rubyvale Gem Gallery, but as they were on holiday, the shop manager showed us Peter's amazing fancy cuts on parti-colour sapphires. The shop is a gemmologist's paradise. Alicia Pray was cutting beautiful black star sapphire cabochons from the Desperado mine, and we bought a bag of 'wash' from the mine to fossick back home in Scotland.

Coloured sapphires collected over a period of 40 years in The Gemfields of Queensland by Peter Brown of the Rubyvale Gem Gallery.
Alan, a lively Stranraer émigré, took us round an underground sapphire mine in Rubyvale. Prospectors first dug one metre diameter vertical shafts through 'shin cracker' overburden (sandy gravels). The bottom layer of wash sits uncomfortably over eroded granite. When miners hit the granite at a depth of 15 m or so, they dug horizontal tunnels to follow the alluvial pay zone where sapphires, zircons, garnets and occasionally diamonds concentrate. Miners knew if they found a block of quartz in the wash, and sapphires were present, they were likely to aggregate upstream of such 'Billy boulders'. This helped them to orientate their tunnels.
Geological section c.15m below the surface inside the Walk-in Miners Heritage Sapphire Mine at Rubyvale. The alluvial sapphires concentrate within narrow 'wash zones' (average 15-20 cm as marked by dotted lines) above the 'granite floor' and below several metres of sandy alluvial gravels. Elongated features are pickaxe marks.
From The Gemfields in Queensland, we drove westwards to Barcaldine ahead of cyclone Debbie's rainclouds. Here we decided to head south towards the Quilpie opal fields. As the land became more arid, the soil turned red, the gum trees thinned out and the grass grew sparse. Intrepid wildlife competed with massive 'road trains' for the driver's attention on the empty roads between the gem locations. We passed trucks hauling three trailers, sometimes four.
Arriving in Quilpie, everywhere we went we were presented with useful information, friendly advice and ideas for things to see, and a chance to cool down from the 35 °C heat of early autumn in the outback. In Quilpie, they told us St. Finbarr's Catholic Church was worth a look. Its altar, font and lectern have impressive panels of boulder opal donated in 1976 by local miner Des Burton, the father of the boulder opal industry. I was quite literally on my knees in adoration.
The only shop open in Quilpie sells everything. There I found the last copy of Greg Pardey's Black Opal: A Comprehensive Guide to Cutting on its shelves and read it cover to cover before we got back to the UK. Walking back to the motorhome on our way out of town, we noticed that the Opal Hunter shop had opened too. Asking if I could buy some rough opal to cut back home, shop owner Eddy Lunney told me he would need to get to know me before knowing what he wanted to sell me. Induction into opal heaven started with a tour of the shop, the lapidary workshop and the yard with part of his huge stock of boulders from his opal mine. By teatime he had given me a masterclass in boulder opal cutting and polishing. I absolutely loved it! The dark blue and purple colours he brings out of the transparent opal (known as crystal) are gorgeous. It was really hard to leave Quilpie the next morning.
We noticed a change in the weather. The temperature had dropped to 20 °C as we drove to Yowah. In this famous opal location, we found Scott Shorten, shopkeeper, opal mine tour guide and librarian. After lunch, with his shopkeeper hat on, he showed us round the Yowah Opal Centre. Yowah opal is found inside nodules. Nine out of ten nodules are empty, so it is always exciting to crack open one, using a hammer or even better sawing through it, to see whether there is any opal inside. Scott sold us some good samples.
Before flying home, Matthew Morin FGA FCGmA senior sales consultant at Altmann + Cherny, a jewellers on Sydney's Pitt Street, showed me how beautiful opals are used in modern jewellery (6). The shop also hosts The Olympic Australis, the largest and most valuable piece of opal ever found. It is a white opal from Coober Pedy, which weighs 17,000 ct, measuring 28 cm long by 11.5 cm high. For more information visit altmanncherny.com.au/famous
ACKNOWLEDGMENTS Carmen Garcia-Carballido would like to thank her husband, Peter Scott-Wilson, for organising the wonderful tour. Eddy and Lynda Lunney for their hospitality at Quilpie. Jack and Dallas Wilson, Robert Cook, Greg Armstrong, Scott Shorten, the staff at Rubyvale Gem Gallery and Matthew Morin for generously giving their time to discuss Australian gemstones.
Carmen meeting Matthew Morin at Sydney jewellers Altman + Cherny. Matthew is also the president of, and a gemmology tutor at the NSW division of the GAA (The Gemmological Association of Australia). Carmen is modelling a Koroit boulder opal pendant on white gold from the shop. Image by Peter Scott-Wilson.

Interested in finding out more about gemmology? Sign-up to one of Gem-A's courses or workshops.
If you would like to subscribe to Gems&Jewellery and The Journal of Gemmology please visit Membership.
Cover image Yowah boulder opals cut by Scott Shorten. Image by Carmen Garcia-Carballido.
Read more...