A Man of the Ocean: Diving for Organics with Eric Fritz
In a recent trip to the London headquarters, Eric Fritz, FDGA DGA manager of North America for Gem-A stopped by for an industry insider Q&A, educating us on theoretical and practical guidance of organic materials. Sarah Salmon speaks to the man of organic passion exploring the nature of these beautiful materials.
With a passion for pearls, a deep love for shells since the age of four and an extensive knowledge of coral, minerals and gemstones, Eric Fritz reveals his top tips when it comes to his specialty: organic gem materials.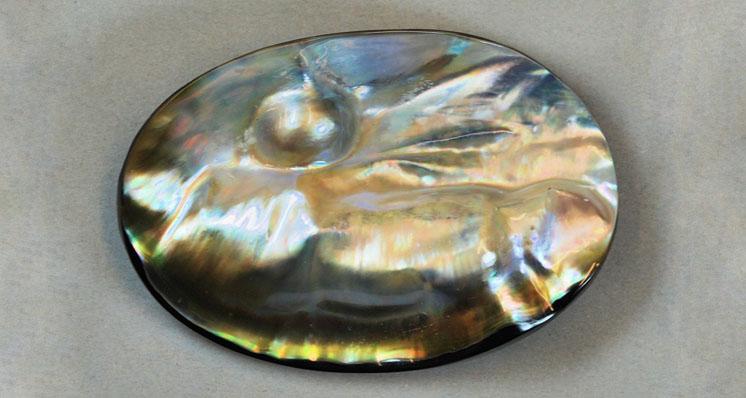 Q. When identifying pearl, what are Gemmologists looking out for when grading their quality?
For value, you will be looking at whether it is a salt-water or freshwater pearl, whether it is natural - formed without any human involvement - or whether the pearl has been cultured. The most valuable in terms of quality across the board would be natural saltwater pearls. This would then be followed by natural freshwater pearls, saltwater cultured pearls to freshwater cultured pearls.
Roundness is also preferable when grading a pearl where the more perfectly round and larger it is without blemishes, the more precious it is considered. The bigger the pearl, provided it still has a good 'roundness' and lustre finish to it with minimal spots and blemishes to it, the more desirable and valuable it becomes.
Q. What causes the blemishes and imperfections to form on a pearl?
The blemishes are caused by the formation of the organic material itself. Formed by living organisms which, just like us are made up of a range of different imperfections, gives each pearl its unique, flawed composition. The living environment of the shellfish is also a key factor where surrounding waters may contain disease or the shell mechanism itself may malfunction; all of which directly affects the pearl quality.
Q. Where in the world are the most desirable pearls located?
Probably the most desirable and rarest natural pearl will always be the mellow mellow pearl. This is a yellow - golden range commonly found in Myanmar, Burma and Vietnam. The mellow mellow pearl is often hailed as the holy grail of all pearls due to being that of the most value.
The price of a pearl can vary widely in correlation to its size, ranging from $3000 to $65-70,000 at many Gem trade shows, even when such pearls contain blemishes and are therefore still considered imperfect
Q. We often hear about Mikimoto pearls, is this a particular brand or is it a type of organic pearl?
Mikimoto was the first person to commercially produce cultured pearls in Japan in the late 1800's. Prior to this, cultured pearls had only been produced on an experimental basis but Mikimoto found a technique that he could use to sustainably produce small cultured pearls – typically 7mm - in small saltwater shells.
Its predecessors, being Gem-A, launched the first global Gem lab in London in order to differentiate cultured Mikimoto and natural pearls. The value of each was quite starkly different which meant that many London jewellers became concerned at the introduction of cultured pearls against the trade of more expensive natural pearls. Mikimoto, dating back over 100 years was, and probably still is, the top quality Japanese Akoya pearl on the market.
Q. Being similar in name, what is the key difference between a conch shell and a conch pearl?
Great question! The Conch shell, Lobatus Gigas being its scientific species, occurs only in the Caribbean off the coast of North America, from Florida down through to the West Indies. It is a big shell that was originally gathered by the native people for food due to its very large edible muscle. It is said that 1 in a hundred conch shells could produce a pearl. Conch pearls come in a range of colours from whites to pinks to browns and yellows but it is the pink variety that remains to be the most valuable. We often believe that the very inside of the Conch shell is pink in colour which is why the pink pearl remains the rarest.
However it is also the inside of the conch shell that produces all of the varying colours of conch pearls. Imitations are created when people take the conch shell and try and cut around a bead, passing it off as a genuine pearl. However, these imitations always have concentric bands where, if you look at the side of the bead, you will see what looks like tree ring growth around the edges. This is a kay indication that this is not a real pearl, but an imitation that has been cut out of a shell.
Q. With a huge variety on the market, how do you identify and compare different seashells from one another?
Seashells come in such a wide variety of genus, ranging from freshwater to seawater environments. Dating back to the Victorian times, seashells were and still are highly collectable objects of nature. Linnaeus, founder of the Linnaeus society extensively named over half of the shells we have identified so far. Seashells are very easy to tell the different species apart as they visually look very different from one another.
Today however to differentiate shells via its species level, identification can require DNA analysis to indicate the differences from one shell to the next. They may look very similar but there is stark variation between the different species.
Q. If you're looking to purchase a high quality shell, what attribute should one be looking for?
People are attracted to different shapes and colour forms with some buying what we call 'valves' where two halves of a shell are held together by a muscle, whilst others favour gastropods where the shell is one piece. Some people like to collect a whole family of shells, preferring only to select pieces within the same genus of shells, leading to a lot of variability. Shell prices for collectors range from £2-£3 up to £100,000 for those that are highly desirable.
Q. What are the key differences between 'hard' and 'soft' coral?
A lot of the time when you look at soft corals in its natural habitat under water, they can often look like plants or sea fans which move with the ocean current. They can range in appearance from big broad fans to tall upright branches but most tend to move. Hard coral contains more calcium carbonate than soft and are often what we refer to as coral reef. An expansive garden of skeletons makes up the coral bed where tiny living organisms live within the pores of these hard corals.
Q. Where is Coral found in abundance across the world?
Coral is most commonly found within temperate waters, including the Caribbean, Australia and the Pacific, with its particular type ranging from place to place. Coral will vary widely in habitat from shallow 3-5ft soft coral waters to deep hard coral found over 1000m underwater. The most precious coral for jewellery is the red coral of the Mediterranean, originally found 100ft under water by early fishermen.
This precious coral was thought to be extinct until divers located caves as shallow as 10-12ft containing this red coral species.
Q. So if you're looking for a piece of jewellery containing red coral, how do you identify it as genuine and not an imitation?
Corals are fairly easy to differentiate with most of the corals – the precious corals – having visible striations that move across the stone/bead. This identifies the growth where the small tree -like structures were with vertical striations of the stems. Many corals are treated with dye to enhance their appearance so being aware of this when purchasing coral is important as those that have been dyed are no longer considered precious. Dyed coral can be identified when a concentrated colour is found along the edges of the stone where the dye has run in a cut stone or if the coral itself is a perfectly uniform colour without imperfection.
Coral value is similar to pearl where the more intense the colour, like red, the more valuable the material is deemed to its pink and orange counterparts.
Q. Final question, I promise! Out of pearl, coral and shell, what is your favourite organic material and why?
That's a hard one! I have a much more extensive collection of shells since I started collecting them at only 4 years old on the coast which continues till today. In this case, since I've been interested for over fifty years, I would probably have to say shells. I collect two main families, the Cowrie shells as well as Conch shells of which The Queen conch is one of them. It was from collecting shells that I got to love pearl, especially as I am yet to find one. The question is tricky as the pearls live inside the shells which then live beside the coral so they are all connected!
Interested in finding out more about gemmology? Sign-up to one of Gem-A's courses or workshops.
If you would like to subscribe to Gems&Jewellery and The Journal of Gemmology please visit Membership.
Cover image of Coral Skeleton and Pearl. All images courtesy of Henry Mesa, Latin American Ambassador at Gem-A.