The Extraordinary Siren of Serendip Blue Sapphire
At 422.66 carats, the Siren of Serendip blue sapphire is a sight to behold. Here, Rui Galopim de Carvalho FGA DGA shares the story behind this fascinating (and exceptionally large) gemstone and describes the process of setting it into a beautiful white gold and diamond necklace.
Sri Lanka, former Ceylon until 1972, was historically known as Taprobane, Jazirat Kakut and Ratna Deepa, these last two literally meaning 'Island of Gems' in Arabic and Singhalese, respectively, and also by the old Persian name Serendip.
The island is the most famous historical source of sapphire and is known for producing fine-quality blue sapphires, sometimes in very large sizes. The gem potential of Sri Lanka was mentioned in the Mahavamsa, the Great Chronicle of Ceylon, as early as 543 BCE. References are also known in Pliny the Elder's iconic Natural History in the first century CE.
Famous Sapphires from Sri Lanka
Notable and sizeable blue examples from Sri Lanka include the Blue Giant of the Orient with an astonishing 486.52 carat weight, which was presented at Christie's Geneva in 2004; the Queen of Romania Sapphire at 478.68 carats, which sold at Christie's Geneva in 2003 for nearly US$1.5 million; the Logan Sapphire at 423 carats presently in the Natural History Museum of the Smithsonian Institution in Washington DC, USA; the Blue Belle of Asia of 392.52 carats, sold for US$17.5 million at Christie's Geneva in 2014; and the Catherine The Great sapphire weighing 331 carats, acquired by Harry Winston in 1948.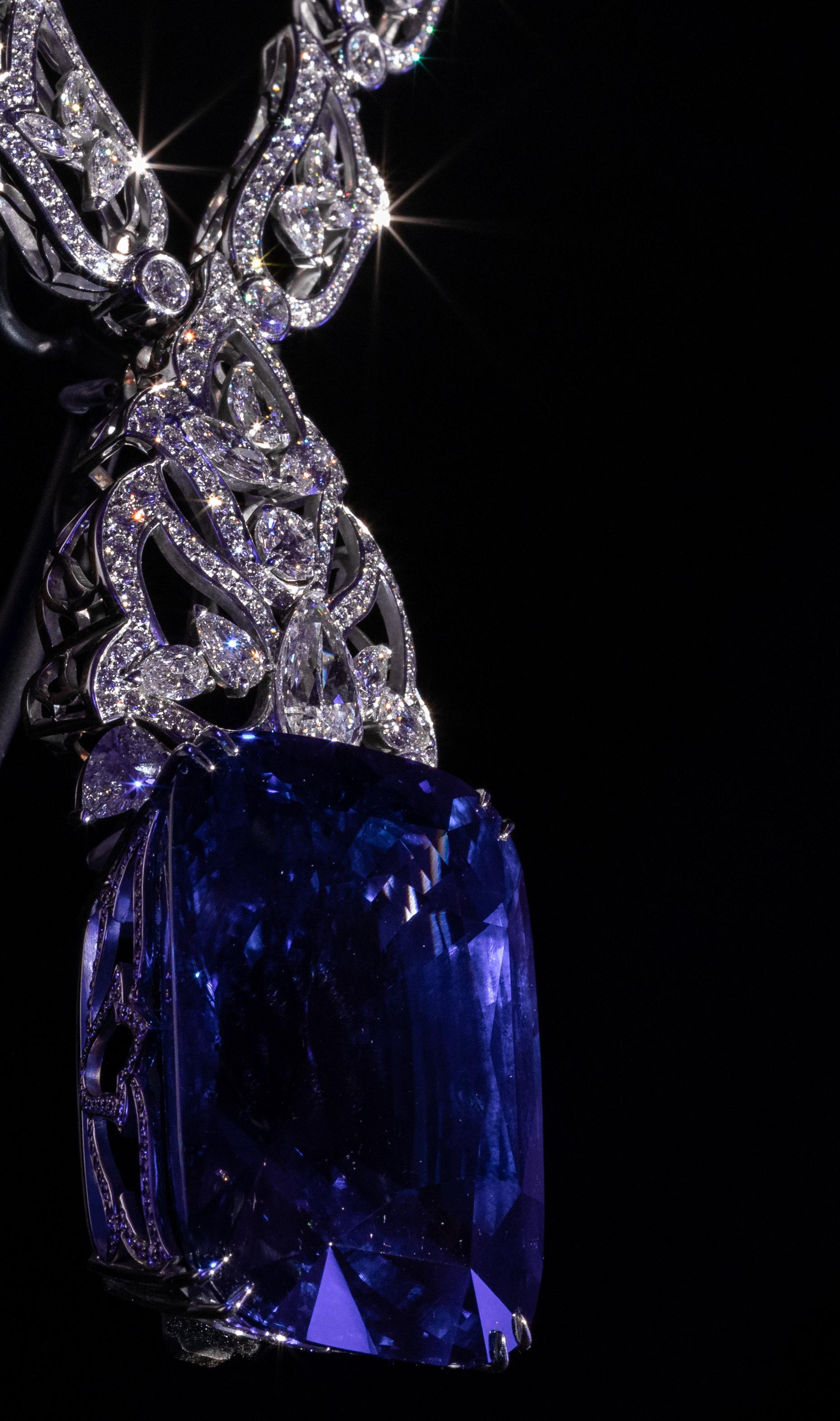 A close-up of the Siren of Serendip sapphire.
Recently, in Texas, another giant blue sapphire was unveiled at the Houston Museum of Natural Science: a modified cushion-shaped mixed-cut deep blue sapphire weighing a whopping 422.66 carats and measuring 48.18 × 36.98 × 25.52 mm. The gem was cut from a 2,670 carat rough found in Sri Lanka reportedly in the early 20th century.
Such a large gem-quality blue sapphire was quite successfully kept outside the mainstream public knowledge for a long time, even from renowned sapphire experts like Richard Hughes of Lotus Gemology, who saw it for the first time in March set into a jewellery piece at the museum. Hughes noted that because this is an "exceptionally well-cut sapphire for a stone of its size, and due to the exceptional colour," it must be considered among the five best-quality giant sapphires he has ever seen.
The Siren of Serendip Blue Sapphire
This unique gem was dubbed 'The Siren of Serendip' by the Houston Museum in honour of both the historical Persian name of the island of Sri Lanka and its irresistibly beautiful colour, evocative of the mythical sirens.
There is an exciting mystery surrounding the Hollywood-like story of this gemstone, including an intriguing phone call with an offer of a world-class gem, a trip to Sri Lanka to see it, the gemmological confirmation of its nature and origin, the negotiation, the acquisition and, finally, its transportation to the United States. Due to the fortunate and happy series of events that made it possible for the stone to end up in the museum's collection, it can be said that this is also a true case of serendipity.
Read more: The Star of India Sapphire
Master jeweller Ingo Henn, of Henn of London, a fourth generation member of a notable family of gem dealers, master goldsmiths and lapidary artists from Idar-Oberstein, Germany, received the commission to develop a jewellery design for the The Siren of Serendip in April 2018. Creating a stunning design to emphasise this unique stone was a rather challenging prospect in the face of its sheer size and weight (almost 85 grams).
Ingo Henn making sure the setting is in perfection. Note the protection tape that covered the necklace for the transport and setting procedures.
An even greater challenge was the fact that the extremely high value of the stone meant it could not leave Houston. All planning and manufacturing work had to be done far away at Henn of London's workshop in England. A high-precision 3D cast of the sapphire was made to serve as a reference for the manufacturing process. After months of study, many designs were shortlisted to just three, which were presented to Joel Bartsch, CEO of the Houston Museum, who had the final say on the project.
The Completed Siren of Serendip Sapphire Necklace
In the end, an 18kt white gold and diamond necklace design was chosen, as both materials are ideal for getting the very best of a blue gemstone. Bench operations started in October 2018 and the gold structure was handmade for posterior rhodium-plating with the sapphire's claws specifically made in platinum.
According to Ingo Henn, platinum would enable a safer setting procedure since it is easier to bend than white gold. In fact, the whole necklace had to be made, diamond-set, polished and rhodium plated in London. The final sapphire setting phase was therefore planned in a metal that would blend with the finished, white metallic lustre of white gold. This is a bench jeweller's knowhow in action!
A profile shot of the necklace shows the intricate white gold and diamond setting. 
A total of 913 colourless diamonds (reportedly E colour — VVS clarity), with a total weight of 36.3 carats, were selected and set on both the necklace and the mount, while the sapphire was still safely stored in Texas. After the final stages of bench work, the completed diamond-set necklace was carefully wrapped in a protective tape and taken to Houston, where the Siren of Serendip was at last set by Henn of London's master stone setter.
This "piece made for eternity," as Ingo Henn puts it, was finished in late February 2019 and unveiled at the Brown Gallery in the Houston Museum of Natural Science on 3 March.
With a touch of true serendipity and due to a considerable number of generous anonymous donors, this Siren of Serendip masterpiece, one of the largest gem-quality faceted blue sapphires on record, was acquired by the museum so it could be on permanent display. It can now be viewed in the Cullen Hall of Gems and Minerals at the Houston Museum of Natural Science, Texas, USA. I would wholeheartedly recommend a visit.
Cover image: The Siren of Serendip set in a white gold and diamond necklace.
All images courtesy of the Houston Museum of Natural Science. This article was originally published in the Autumn 2019 edition of Gems&Jewellery (Vol.28, No.3).
Interested in becoming a gemmology expert with Gem-A? Read more about our Gemmology Foundation course.
Gem-A also offers a host of one-day workshops on a range of gemmological subjects. Check out our upcoming workshops here.