Gem Empathy Returns with a Bolivian Ametrine for IJL 2018
In an excting change from previous years, the 2018 iteration of Gem-A's Gem Empathy competition in association with International Jewellery London (IJL), will invite entries from the whole spectrum of exhibitors, not just Design Gallery creatives.
This year, IJL exhibitors, whether established companies or emerging brands, will have the opportunity to win a sensational fancy-cut gemstone by master gem-cutter, John Dyer, to use in a bespoke jewellery piece.
Exhibitors are tasked with creating a hand-drawn design or CAD render. The one that uses the gemstone in the most innovative and imaginative way wins the Gem Empathy Award – walking away with the gemstone in the process.
This year's gemstone is an 18.28 carat ametrine from Bolivia (Mohs scale 7). It was sourced by the Gem-A team directly from John Dyer, who is known globally for his artistic gem-cutting skills and passion for precision.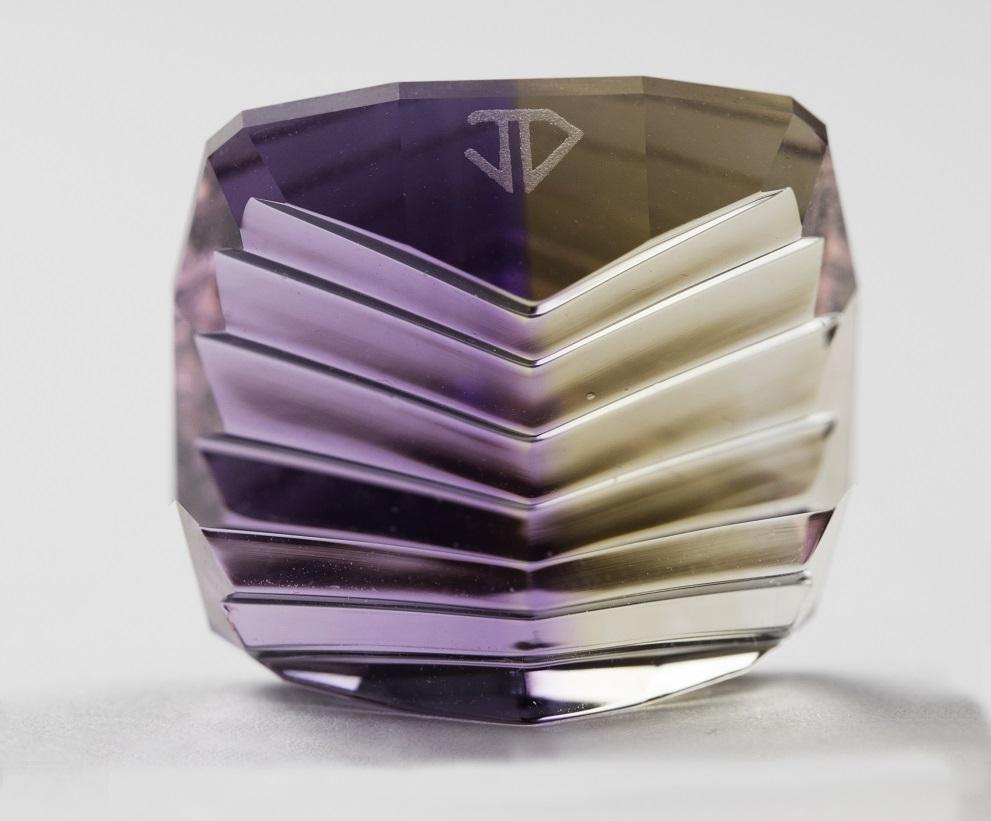 The 18.28ct ametrine carved by John Dyer. Note his signature engraved into the gemstone. Image: Henry Mesa @ Gem-A.
The stone is cut in one of Dyer's signature cuts - Dreamscape - making it both highly unusual and visually striking. Further details about the dimensions of the stone can be found below.
Understanding Ametrine
Ametrine is a naturally occuring variety of quartz. It is a mixture of amethyst and citrine (hence its name) with zones of purple and yellow or orange.
Almost all commerical-mining for ametrine takes place in Bolivia, specifically the Anahi mine in the south east of the country.
The best ametrines are the ones that display an attractive blend of both colours, which can also be enhanced by experienced cutters like Dyer.
Judging and Criteria
This year's judging panel, which includes Gem-A CEO, Alan Hart FGA, IJL event manager, Sarah Kitley-Spencer, and Retail Jeweller editor, Ruth Faulkner, will focus on the following factors when choosing a worthy winner:
Relationship between stone and design
Practicality of design
Style and beauty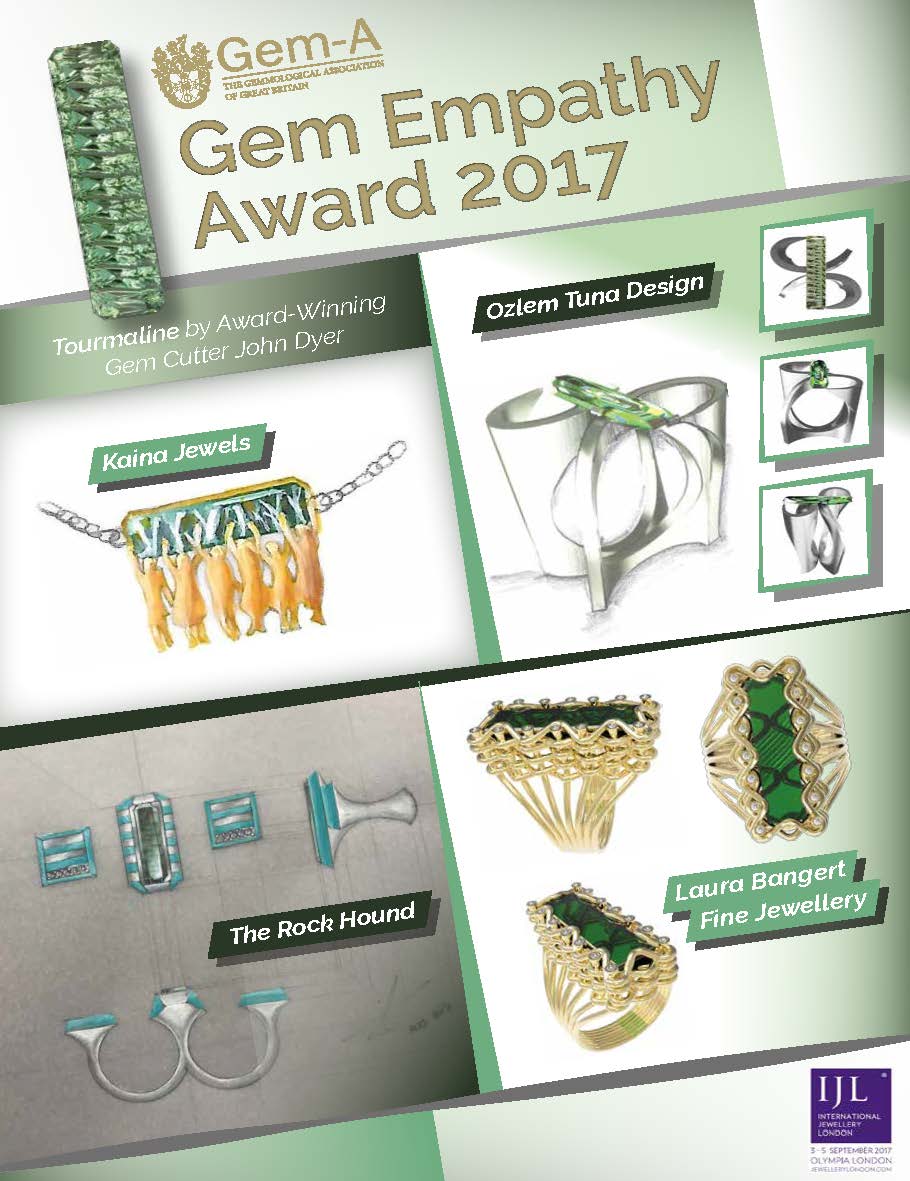 The shortlisted designs for the 2017 Gem Empathy Award. Turkish designer, Ozlem Tuna (top right), secured first place.
How to Enter Gem Empathy 2018
The Prize:
The winner will receive the gemstone
A press release from Gem-A announcing the winning designer
An article in Gems&Jewellery magazine.
How to Enter:
Send your design (hand drawn or CAD image) along with an accompanying paragraph describing the materials used and the inspiration behind the piece to events@gem-a.com before August 14, 2018.
The judges will choose a shortlist of finalists, before the overall winner is presented with the Gem Empathy Award at IJL at Olympia, London, on September 2, 2018.
Please note, this year's Gem Empathy gemstone has the following dimensions: L:19.0 x W:17.5 x D:7.0mm.
Interested in finding out more about gemmology? Sign-up to one of Gem-A's courses or workshops.
If you would like to subscribe to Gems&Jewellery and The Journal of Gemmology please visit Membership.