Gem-A Student Celebrates Southend Success at Houses of Parliament
Second generation family business C J Vinten, was recently invited to exhibit its wares at the Houses of Parliament to celebrate a milestone for Southend. Angharad Kolator Baldwin reports…
Earlier this year, Southend-on-Sea was named as the Alternative City of Culture 2017. For family-run jewellery business C J Vinten, run by Gem-A student Lance Vinten and his sister Lily Vinten, this honour resulted in a unique opportunity to attend the Houses of Parliament.
C J Vinten was chosen, alongside other local businesses, to represent the eclectic talents of Southend at a special gathering on 11 January. Gem-A was invited to witness this fantastic event, but also to learn more about the diverse talent that helped Southend earn the accolade.
Lance Vinten is the son of Christopher Vinten, who established C J Vinten Goldsmiths more than three decades ago. The jeweller, which can be found in Leigh-on-Sea Essex, includes a shop and workshop. When Christopher Vinten retired his children, Lance and Lily, took over the running of the business. 
Before studying at Gem-A, Lance attended the Birmingham School of Jewellery, completing the Jewellery and Silversmithing - HND course. Lily completed her Professional Jewellers' Diploma with the National Association of Jewellers (NAJ).
Lance started his Gem-A journey with the Gemmology Foundation Online Distance Learning (ODL) course in 2015, swiftly followed by a Gemmology Diploma ODL course. Despite finding the course fascinating, the nature of distance learning made Lance crave conversation with other passionate gemmologists. To remedy this he attends as many of Gem-A's Gem Central evenings as possible; noting that the "interaction with tutors, professional gemmologists and fellow students" is particularly enlightening.
When asked what he gained from the Foundation course, he commented that the program gave him a newfound interest in inclusions. He has also found being better at identifying stones, has given him new confidence when interacting with customers. 
This confidence was certainly on display at the Houses of Parliament, where C J Vinten Goldsmiths presented a wonderful collection of jewellery. This included an 18 kt white gold sapphire ring handmade by Lance himself.
Also on display was a pair of silver dinosaur bone cuff-links and 18 kt white gold drop earrings, each rub-over set with a trillion cut pink sapphire and two brilliant cut diamonds.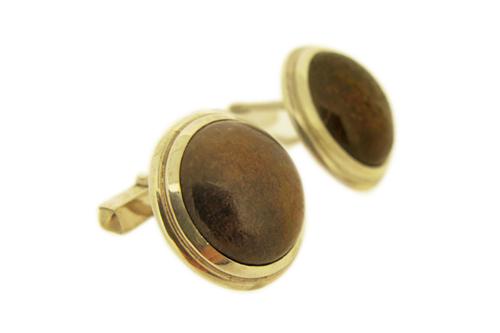 Lance commented: "We brought the pieces that Tom (the head craftsman), my sister Lily and I felt were the most impressive examples of our handmade work. We also wanted to show the range of jewellery that is made here [at CJ Vinten in Southend], to show that you don't need to spend thousands of pounds to get a nice one off piece. It was an honour to be involved in this event and to be invited as guests into the Houses of Parliament."
For Lily Vinten, the highlight of CJ Vinten's display was a red spinel and diamond ring, handmade in 18 kt white gold with an 18 kt yellow gold mille grain setting. The oval red spinel is surrounded by two steps of 62 brilliant cut diamonds. She told us: "After seeing many rings featuring vivid red stones in jewellery and fashion magazines and also the rise of Art Deco jewellery, we decided to create this stunning cocktail ring. The 1920s is famous for amazing dresses and jewellery, so with that in mind the craftsman came up with a design that would suit an evening gown."
The design process of making the red spinel ring. Image courtesy of C J Vinten
Lance believes continuing his gemmology education, and providing the opportunity for other staff members to continue theirs is "vitally important for the future of the company". Recently CJ Vinten employed a workshop apprentice, who is already showing good potential, allowing Lance and Tom to pass some designs to her, as well as receive "copious amounts of tea".
The Mayor of Southend, Cllr Judith McMahon gave a speech at the special event, hailing 2017 as "the Golden age". She added in reference to Southend: "Art and culture is welcome, where it will flourish and find its natural home." Looking at the wealth of talent in the room this certainly seems to be true. From folk dancing and confectionary to jewellery, the exhibition showcased it all. 
The Alternative City of Culture could not have come to fruition, without the dedication of Sir David Amess MP. A Member of Parliament for Southend West since 1997, he is determined to secure City Status for the town and propel Southend forwards. At the event he said it was a wonderful opportunity "to celebrate the rich culture and community of Southend". ■  
The project has a 12-month programme of events arranged including art, sport and performance, making Southend the place to visit this year.
To view more of C J Vinten's jewellery click here
Interested in attending a Gem Central event? For more information about our upcoming Gem Central events visit the Gem Central page or email events@gem-a.com.
Interested in finding out more about gemmology? Sign-up to one of Gem-A's courses or workshops.
Cover image 18 kt white gold cluster ring, claw set with Trillion cut morganite 1.52 ct, surrounded by Brilliant cut diamonds and further diamonds in split shank, 0.31 ct total, handmade by Lance. Image Courtesy of C J Vinten.