Discovering Agates on the Shores of Cornwall, England
Cally Oldershaw FGA DGA describes the thrill of finding agate on the shores of Cornwall and reveals how these subtly-toned gemstones are shaping her jewellery collections in collaboration with geologist and lapidarist, Ben Church.
With many more people choosing to stay in the UK for their 'staycations' rather than going abroad for the holidays, the numbers visiting popular tourist regions such as Cornwall is increasing.
Agates of Cornwall
Of the Cornish rocks and the many millions of pebbles on the beaches, only a few are true agates showing the characteristic banding that defines them. The process of looking for agates is simply to visit a beach and walk slowly, looking at as many pebbles as possible. Determining whether a pebble is an agate is more of a challenge, it takes time and experience to identify the agates and from those, the ones that will be best suited to be made into jewellery.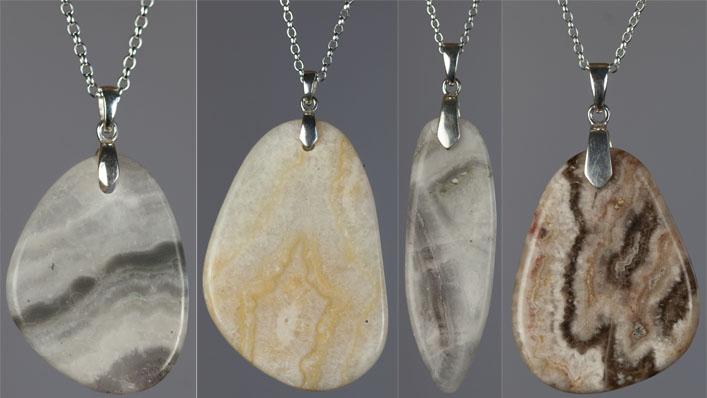 A selection of Cornish cabochons and slices from Cally's jewellery collections.

Time and location are also important. The best time to look for the agates is when the tide is going out, as the banding in the agates shows better when they are wet; searching the intertidal areas from the high tide 'strand line' is likely to be most successful. Some beaches yield more agates than others and this changes with the tides and the seasons as the amount of sand and pebbles on each beach fluctuates, sometimes daily, throughout the year. It took us almost two years of researching and visiting potential collecting sites to develop an effective method of finding Cornish agates.
What is Agate?
Agates are a type of quartz, the same family as colourless rock crystal, purple amethyst, grey to brownish-grey smoky quartz, black morion and yellow citrine crystals. Cornish agate consists of banded varieties of chalcedony and many occasionally include areas of crystalline amethyst, rock crystal or morion. Chalcedony is defined as microcrystalline or cryptocrystalline (hidden crystals) quartz, where crystals are too small to be seen without using a microscope.
No two agates are alike; each is formed over millions of years and has its own unique colours and patterns. Their distinctive colours include grey, cream, caramel, white, colourless chalcedony. Some pieces have translucent or transparent bands, where it is possible see through the agate.
Left: A model wearing a pendant made of Cornish agate. Right: A Sculptural piece approx. 10cm across with purple crystalline amethyst
The Cornish agate pebbles and polished pebbles have been used in crystal therapies. Named for their colours; the more vibrant poldark agate and Cornish caramel agate, are believed to help energise, while the cooler colour of Cornish grey agate and Cornish cream agate have a calming effect. A reddish coloured blush agate is particularly rare.
Cornish Agate Formation
Most agates have a volcanic origin, with the agate filling cavities or vesicles (small bubbles) within volcanic igneous rocks. Cornish agates formed about 240 million years ago and have a different origin. The characteristic granite landscape of the Southwest of England including Dartmoor, Exmoor, and Bodmin Moor, as well as the Scilly Isles, are all part of a large intrusion of igneous rock, which slowly cooled between 1.5 and 3 miles underground, causing fissures and cracks in the surrounding rocks (country rocks).
Cornish agates formed from got silica-rich fluids that filled these cracks and fissures called veins (like the veins within a leaf) within the country rocks, and then cooled and solidified to form vein agate.

Another selection of Cornish agate jewellery in a variety of colours.

The country rocks surrounding the granite were folded and faulted as the sea floor between Cornwall and Europe was compressed, and the rocks buckled up to form the landscapes and coastal cliffs of Cornwall. Over millions of years, these folded and faulted rocks were weathered and eroded. In rare cases, the veins can be seen in the rock faces and cliffs at the back of beaches. As the rock was broken down, agates were released to the beaches, where the energy of the seas moved the agate back and forth with the tides, gradually grinding sharp angular rock fragments into smooth rounded pebbles.
Cornish Agate Jewellery
Having collected and sorted the agates, the first step in making the jewellery is to make a slice to check the pattern within. Ben [Church] uses a saw with a 25cm diameter diamond blade, which cuts about 10cm an hour. The blade is lubricated and cooled with honing oil that gives a smooth satin surface and is wonderfully tactile. It can take several hours to prepare and make the first cut through one of the larger pebbles.
We assess each slice individually, inspired by the unique pattern of each agate, to decide whether to trim and polish a slice as an irregular shape (freedom form), or draw around set templates to produce oval and teardrop shapes for example. We then sort the slices to choose which will be made into cabochons, with a rounded upper surface, and which will be worked as polished, flat slices.
Left: Cally collecting Cornish agates. Right: Cornish grey agate slice on chord.

Initially the flat slices were made into freedom forms with a drilled hole so that agate slice could be worn on a leather cord. A later development was a surf board design with further accentuated the Cornish essence of the agate, fitting with the Cornish beach and surfing lifestyle.
Adding a sterling silver pinch ball and chain was the next development phase. This jewellery has Made in Cornwall accreditation, as we collect the Cornish agates from the north coast of Cornwall, as well as cutting, slicing, polishing, drilling and packaging the jewellery all within about 10 miles of where they have been found. Pieces have been exhibited at Made in Cornwall events and displayed in the Lander Gallery in Truro, Cornwall.
This year we also had some of the agates mounted in sterling silver bezels and displayed on sterling silver necklaces to enhance the natural beauty of the agates, whilst placing the agate in the content of fine jewellery.
The Infinite Wave Jewellery Collection
The latest range of jewellery is our Infinite Wave Cornish Agate Collection. We have used the waves of the Cornish coastline as our inspiration to design unique luxury pieces.

Left: Cornish caramel and Cornish cream agate polished pebble. Right: A model wears jewellery design featuring Cornish agate

Having worked with gemstones and with the jewellery industry for more than 30 years, it has been a wonderful challenge and an exciting experience to bring together my love of gemstones and jewellery to design something so uniquely Cornish.
My vision for jewellery, as a consultant in sustainable mining and ethically sourced gemstones, is to design a collection that, in collaboration with jewellers' worldwide, would be produced using only Fair-mined and Fairtrade gold and platinum, and ethically sourced silver.
Find out more at cornishagates.co.uk
This article originally appeared in the Winter 2017 (Vol. 26 No.4) issue of Gems&Jewellery magazine.
Interested in finding out more about gemmology? Sign-up to one of Gem-A's courses or workshops. If you would like to subscribe to Gems&Jewellery and The Journal of Gemmology please visit Membership.
Cover image: Cornish grey agate slice © Ben Church. All images © Ben Church.