Graff Diamonds buys 1,109ct Lesedi La Rona Diamond for $53m
The second largest gem-quality diamond ever discovered has been sold privately to Graff Diamonds for a staggering $53 million.
First unearthed by the Lucara Diamond Corporation in the Karowe mine in Botswana, the Type IIa Lesedi La Rona diamond weighs in at 1,109 carats. It was initially put up for auction in June 2016, but after failing to reach its pre-sale estimate of $70m, stalling at $61m, the diamond was hidden away.
Graff has a long-running reputation for buying big diamonds, including a 373 carat rough believed to be a fragment of the Lesedi La Rona in May 2017. The price was a cool $17.5m.
Read more: Magnificent 51ct Dynasty Diamond Unveiled by Russian Mining Giant
The Karowe mine is also where the 813 carat Constellation diamond was uncovered in 2015. This particular diamond holds the record as being the world's most expensive, having been sold for $63m to a Dubai-based company. It is now in the hands of de Grisogono founder, Fawaz Gruosi, who is transforming the rough into as-yet-undisclosed masterpieces.

Whilst the Lesedi La Rona diamond failed to sell at auction, it has now been privately sold to Graff Diamonds for $53m. ©Graff Diamonds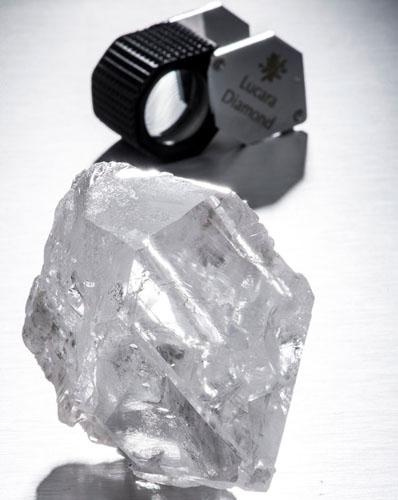 The 1,109-carat Lesedi La Rona is the second largest diamond in the world. ©2017 Lucara Diamond Corp.

Commenting on the purchase, Graff Diamonds founder and chairman, Laurence Graff, commented: "We are thrilled and honoured to become the new custodians of this incredible diamond. The stone will tell us its story, it will dictate how it wants to be cut, and we will take the upmost care to respect its exceptional properties. This is a momentous day in my career, and I am privileged to be given the opportunity to honour the magnificent natural beauty of Lesedi La Rona."
Lucara president and CEO, William Lamb, called the discovery of the stone a "company-defining event". He noted: "We took our time to find a buyer who would take the diamond through its next stage of evolution. Graff Diamonds is now the owner of the Lesedi La Rona as well as the 373-carat diamond... We are excited to follow these diamonds through the next stage of their journey."
High jewellery aficionados will now have to wait patiently to see what Graff Diamonds does with this incredible rough.
For further information and photos of the Lesedi La Rona visit lucaradiamond.com
Interested in finding out more about gemmology? Sign-up to one of Gem-A's courses or workshops.
If you would like to subscribe to Gems&Jewellery and The Journal of Gemmology please visit Membership.
Cover image: The 1,109-carat Lesedi La Rona diamond sold to Graff Diamonds. ©2017 Lucara Diamond Corp.