Sapphires of Ethiopia: The Forbidden Road to Chila
Simon Bruce-Lockhart FGA DGA EG, travels to Ethiopia to uncover the truth behind the Aksum sapphire fields and find out why this restricted-access area is such a fascinating place for gemstone discovery.

You may be forgiven for thinking Africa's only 'Sperrgebiet', a restricted access wilderness of gemstone-bearing lands, is solely Namibia's claim to frame. It turns out however, in the remote Ethiopian Highlands, at a height of almost 8,000 feet, a large sapphire-field has been found in a remote, culturally-timeless area that is carefully administered by the authorities.
This new find, made in early 2017 at the north end of Africa's Great Rift Valley, was somewhat eclipsed by the 2016 discovery of a Madagascan sapphire deposit that occupied the sapphire industry's attention (see pp.14-15). This new Ethiopian sapphire deposit has emerged almost entirely unnoticed, and the scale is only just being understood.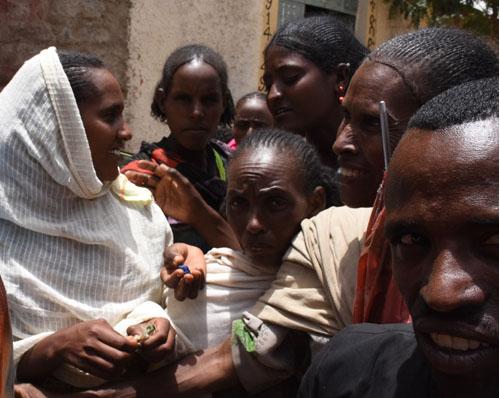 A 12 gram/ 60ct blue sapphire being passed through a tightly-packed crowd in the restricted-sapphire areas in Tigray, northern Ethiopia. ©Simon Bruce-Lockhart


Thousands of farmers and sapphire miners walk to Chila market to trade sapphire. ©Simon Bruce-Lockhart

To the north of Askum, the ancient seat of Christian kings known for cultural jewels of millennia-old steale and rock-hewn churches, is the dusty market-town of Chila - the gateway to the sapphire fields. Chila is a remote settlement, over 1,000km by road from the capital city, Addis Ababa, and is perilously close to the sensitive UN demarcated border with Eritrea. The sapphire-fields are in the middle of the strategic border areas and are part of the former conflict-zone between the two nations - access here is forbidden to foreigners.
I have come here with the Ethiopian Ministry of Mines, Petroleum & Natural Gas to verify the sapphire-fields, document what is going on, and prove the sapphire-types produced from Africa's highest sapphire mines that are likely to become a significant player in the global supply-chain over the next few years.
Heading to Chila from Aksum, fertile flatlands give way to winding mountainous dirt-roads. Mountain slopes of granite rocks are peppered with acacia trees, eucalypts and huge aloe-veras. Vast fields of time-worn boulders stretch for miles forming hills, outcrops and deeply-strewn valleys. The closer one get to Chila, it is clear you are entering the debris-field of an ancient volcanic landscape. This is the 'Adwa Plug', an 800km square granitic and basaltic-zone visible from space - much of which is sapphire-bearing.
Chila is a small town on a dusty plain, surrounded by granite. Home to several hundred ramshackle houses, the town's main draw is its once-a-week market. Thousands of rural people from surrounding areas come to town to trade the produce of subsistence-farming and purchase provisions. It was, until recently, not unlike any other remote market-town in Ethiopia's Highlands. However, since early 2017, the market has morphed into a lively and unusual trading post, where sapphire and zircon are sold alongside mangoes and live chickens, and garnets and tourmaline are traded next to goats, shallots and grains.

The Chila sapphire mines. ©Simon Bruce-Lockhart

Untethered camels wander the streets in front of sapphire-dealing offices. Boys herding goats drift through side-alleys as men inspect sapphires. The streets of stone and dust throng with thousands of people looking to sell sapphires and more. Here in these streets, crowds press-up against you to show and sell their sapphires. The surrounding one-story stone buildings comprise of offices that provide relief from large, curious crowds eager to sell their sapphires.
The Saturday market attracts many of the 5,000 sapphire miners who work the current deposits. The isolated sapphire mines, some 10km outside of Chila, are accessible only by robust four-wheel drives along winding dirt-tracks with tyre-shredding pieces of rock. These arduous conditions and farmers' low-incomes, means no cars, trucks or motorbikes pass down these tracks - the traffic here belongs to a bygone age.
Thousands of people walk large distances to trade and barter sapphires and subsistence-farming produce. On Saturdays, long columns of people an livestock trudge the boulder-strewn valleys and hills. Most walk 10km or more to market with camels and donkeys to trade their sapphire, purchase a week's worth of provisions, load their beasts of burden and walk all the way back through valleys and hills at dusk.

Lemma Kahsay of the Ministry of Mines (MoMPNG) inspects a freshly found sapphire. ©Simon Bruce-Lockhart

Small boys with donkeys packed with bales of goods and water-drums toil under their burden, ancient goat-herders walking their stock and camel-trains crowd the tracks in long snaking lines from valley-to-hill. Instead of the sound of engines, only the wind, chattering of voices and the braying of donkeys, camels and goats punctuate the soundscape as they march through the hills.
The sapphire mines are based in river-bed placer deposits. At the foot of the hills the river courses level out on the valley floors where slowing waters drop their heavy sapphires. Nestled in flat plains between arid hills, mining-activity takes place in creeks, river-courses and low-lying plains to yield sapphires placed by millions of years of ever-changing river courses.
Hundreds of men and women work the dry rivers with pick-axes and agricultural hoes. Donkeys idly watch the proceedings hiding from the withering sun under occasional trees and camels wander casually down the creeks as if inspecting the diggers' progress. The miners work the beds and banks sifting grave and soil searching for anything that may be sapphire.
Upon finding something, yelps of delight and smiling faces erupt as miners leap across tailings to evaluate the find. Peering and squinting, they hold the sapphires up to the sky to allow the light to reveal colour, shape and internal features in an attempt to ascribe a value and foretell the potential riches that await them on Saturday. Voices of animated, excitable conversations and opinions ring out through the mines. Some finds are jealously kept until market day; others are instantly sold to other miners or speculators within the mines.
Currently, three large-scale mining locations in the central areas of the Adwa Plug are being mined. A newer mine in the eastern areas of the sapphire-fields near Rama is starting to be exploited. Given the perfect geology across such a large area, one would expect new mines to continue being found all over the Adwa Plug.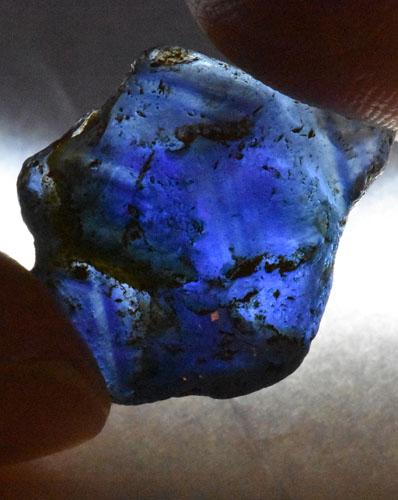 A higher-iron sapphire from Chila, Tigray Province, Ethiopia. ©Simon Bruce-Lockhart.

However, in such a large, remote and low-population density area, lack of man-power is likely to be an issue hindering output volume. The colour-range of Chila sapphire is in the blue-yellow-green series of sapphire. 90% of the material is typical of basaltic sapphire* with the colour tending to be quite dark. Much of this material will need to be lightened via high temperature heat-treatment. It is likely that these darker colours are due to high-iron content and form a series of blues, yellows and greens in a plethora of mono-chrome and parti-colour combinations and saturations that will do well as commercial sapphire.
Approximately 10% of Chila sapphire is a pleasing soft, yet intense mid-blue colour, low in iron-content and appears to be similar to metamorphic-type sapphire*. This material is a fine colour and this 10% will be keenly sought-after by the international markets. It appears there is a 'habit' of sizes, with the darker iron-rich types frequently having very large sizes, and conversely, the top-colour low-iron content blues are generally smaller.
Exports to the global gemstone industry are starting to create substantial foreign capital inflows and taxation revenues for Ethiopia. The money spent by the first-line buyers in northern Ethiopia gets placed directly into the miners' hands - local families.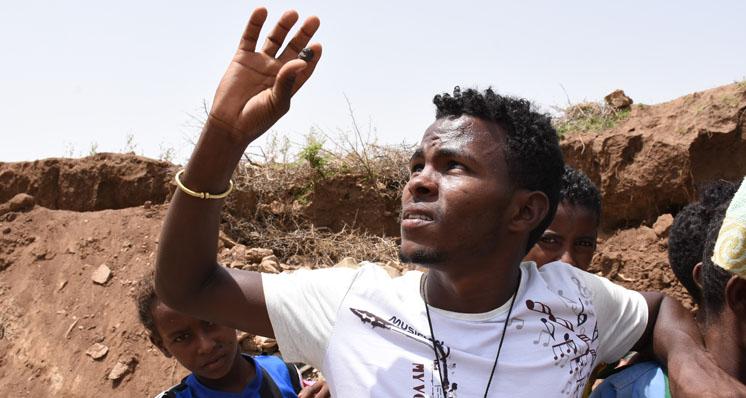 To The Light Of The Sun. An Ethiopian miner peers into a sapphire. ©Simon Bruce-Lockhart

The sapphire-rush currently being experienced in the baking valleys and hills will inevitably lead to increased wealth in a region where opportunities are limited. As the gem and jewellery trade start to incorporate Ethiopian sapphire into its supply chains and finished jewellery, we can all look forward to working with its wide range of colour, sizes and price points.
* At the time of writing the highly complex geology of the areas is not yet fully understood.
Simon Bruce-Lockhart would like to thank Steve Minsiter Tewodros Gebregziabher, Biniyam Bekele, Teweldbrhan Abay, Lemma Kahsay and Fittwi Weldu of the Ethiopian Ministry of Mines Petroleum & Natural Gas for permitting him to enter the Chila area. Also, special thanks to Abi-Aziz Yousef.
Gem-A members can log in to read the full article Gems&Jewellery Autumn 2017 / Volume 26 / No. 3
Interested in finding out more about gemmology? Sign-up to one of Gem-A's courses or workshops.
If you would like to subscribe to Gems&Jewellery and The Journal of Gemmology please visit Membership.
Cover image: A rough low-iron cornflower blue Ethiopian sapphire. All images by Simon Bruce-Lockhart.