Beginner's Guide: What Can Emerald Inclusions Tell Us About Origin?
Emerald has long been one of the world's most popular and valuable gemstones. Since the times of the Ancient Egyptians, emeralds have been viewed as tokens of good fortune and harbingers of new beginnings and rebirth.
While emeralds are fascinating from a historical and culture perspective, they are equally exciting for gemmologists, particularly when it comes to characteristic inclusions.
A variety of green beryl, the name 'emerald' is derived from the Greek word smaragdus (meaning green). The green colour of emerald is caused by traces of chromium, but vanadium may also be present in some stones.
Today, emeralds can be found in Colombia, Brazil, India, Pakistan, Siberia, South Africa, Zambia and Zimbabwe.
The inclusions contained in almost all natural emeralds are very useful in distinguishing them from synthetic emeralds and other green stones. The types of inclusions in some emeralds can offer an indication as to their origin - although this is certainly not a foolproof method.
Typical Emerald Inclusions
As you examine more emeralds, either during your studies or out in the field, consider the following localities and the typical inclusions and features that material from these regions can present.
| Locality | Typical Inclusion and Features |
| --- | --- |
| Colombia | Three-phase inclusions (liquid-filled cavity containing a crystal and a gas bubble) |
| India | Two-phase inclusions (liquid-filled cavity containing a gas bubble) |
| Zimbabwe | Tremolite (usually fibrous or neddle-like crystals) |
| Siberia | Needle-like crystals of actinolite |
| Many Localities | Mica flakes, pyrite and calcite, and also colour zoning |
Examples of these inclusions can be found in the images below, taken by Gem-A tutor, Pat Daly.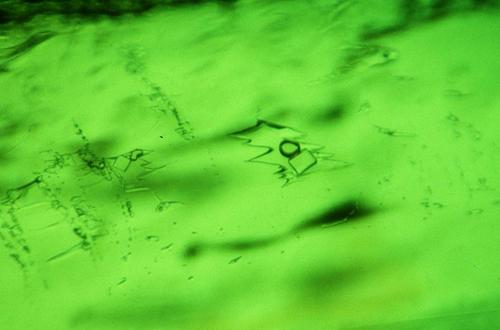 Three-phase inclusion in emerald. Image courtesy of Pat Daly.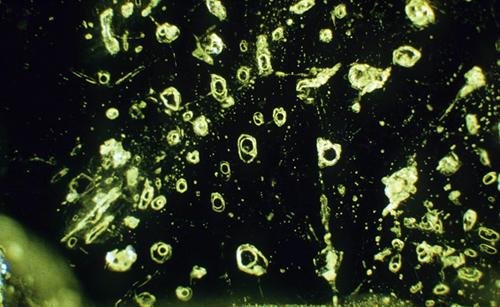 Needle-like inclusion. Image courtesy of Pat Daly.
When combined with other assessments, such as the refractive index and specific gravity, these inclusions can give an indication as to the country of origin. ■
Interested in finding out more about gemmology? Discover our courses and workshops here.
Cover image needle-like inclusions in emerald. Image courtesy of Pat Daly.