Vegas: The Garden of Colourful Delight
At an exciting time for fresh perspectives and bold designs, the Las Vegas shows are on the cusp of a new era. With brands reinventing themselves in 2018, Olga González FGA DGA, explores some of the colourful trends at Couture, JCK, and AGTA.
Rainbows and Unicorns
Rainbows are having a renaissance, alongside unicorns. Why choose one colour when you can incorporate all of them? Couture, JCK, and AGTA did not disappoint in the rainbow department. From sapphires to spinels to tourmalines, designers embraced a plethora of motifs and no style was left untouched. Some, like Nadine Ghosn, were whimsical with the rainbow.

Veggie Burger Ring by Nadine Ghosn.
260 stones, including: champagne diamonds, sapphire, tsavorites, rubites, and princess cut diamonds.
Her Veggie burger stacking ring, and burger and fries cufflinks, merged fine jewellery with popular culture, making it relevant and fun to wear Americana statement pieces. Venyx was equally playful with their Ra Rainbow hoops, featuring diamond, tsavorites, and a variety of sapphires, and their unicorn earrings: from the namesake Frappuccino to Taylor Swift riding a "Caticorn", the mythical creature has taken the world by storm.
Ra Rainbow Hoops by Venyx
Diamond, tsavorites, blue sapphires, amethysts, pink and orange sapphires, rubies, spinels, citrines, peridots, black rhodium and 18K yellow gold.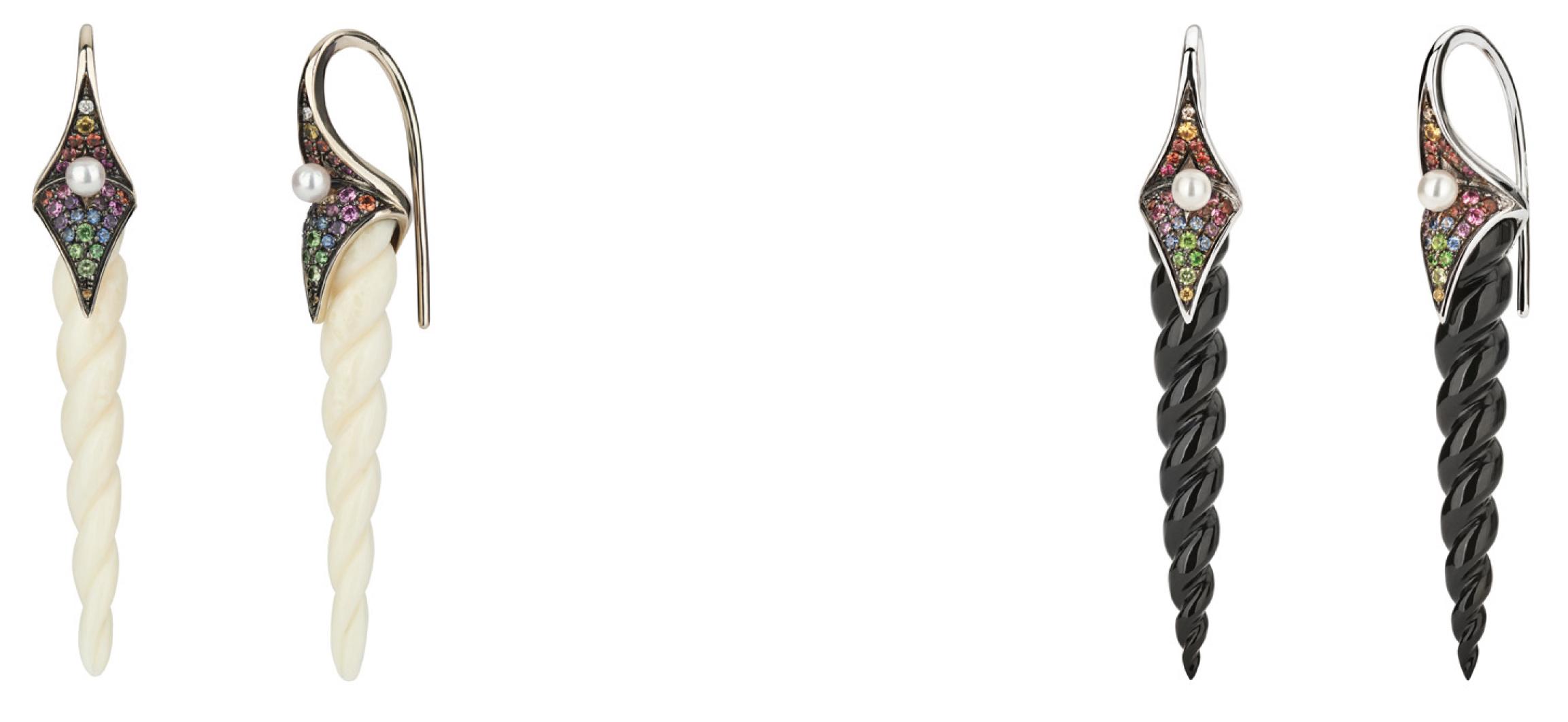 Rainbow Unicorn Earrings by Venyx
Left: 18K white gold, black rhodium, diamond, mammoth ivory, yellow sapphire, orange sapphire, pink sapphire, amethysts, blue sapphire, tsavorites and akoya kehsi pearls.
Right: 18K white gold, black rhodium, onyx, yellow sapphires, orange sapphires, pink sapphires, amethysts, blue sapphires, tsavorites, and akoya keshi pearls.
Paula Crevoshay, the queen of colour, stunned with a Couture showstopper: the Garden of Delight. In collaboration with Nicolai Medvedev, Crevoshay's gemstone mosaic mystery box is topped with a stunning Blue Columbine brooch, and opens to reveal a pair of hidden rainbow-coloured hummingbirds, gathering nectar. The Goldentail Sapphire Hummingbird is fittingly decorated with parti-coloured sapphires.
The Garden of Delight
A collaboration by Paula Crevoshay and Nicolai Medvedev, featuring Montana sapphires, malachite, azurite, diamonds, coral,
rhodochrosite, lapis lazuli, tigers eye, opal, tsavorite, matt-tse-tsite, spinel and gold.
Jeffrey Bilgore, AGTA President and internationally renowned gemstone merchant, delighted visitors with his "unicorn-rare" graduated demantoid garnet earring and necklace set. In his own words: "All I can say is…it is truly one-of-a-kind, in design, and in materials executed of exceptional quality with ease of wear."
Demantoid Garnet Necklace by Jeffrey Bilgore.
Oval Russian demantoids and diamonds set in 18K yellow gold and platinum.
Celestial Brings Back Wonder
"Never apologise for burning too bright or collapsing into yourself every night. This is how galaxies are made" Tyler Kent White.
Being forever timeless, celestial motifs capture our natural fascination with what is beyond our world. The vast beauty of the universe, and its cosmic sparkle in the night sky, makes it a natural motif for the sparkle of diamond jewellery.
Brookland Jewelry, a line newly launched at Couture, made a splash with its Brooklyn-made-and-inspired designs. Several pieces incorporated star motifs, with an exceptional Brookland Stars statement necklace drawing much attention.
Tara Pearls, who exhibited at Luxury, took on a streamlined celestial look with their Galaxy Pearl hoop earrings. Their Tahitian pearls are surrounded by an orbit of diamonds, equal parts modern to elegant to out-of-this-world. Venyx also launched their Elementa collection at the show, with suns featuring throughout designs, as seen in their Aruna Sun Earrings.
Enamel is on Fire
As jewellery design becomes an increasingly digitalised field, some designers are boldly standing out by using labour intensive, artisan techniques. Enamel, in particular, is undergoing a revival. According to Bagues Masriera's Oriol Oliveras:
"Enamel is the perfect technique to combine with 18K gold, diamonds, and precious stones in design. We understand the jewel as an artistic expression. Enamel allows us to work with an infinite colour palette, as well as an infinite range of textures and transparencies. All of this is thanks to opaque and translucent enamels. Today we find, more than ever, that enamel is a more valued technique precisely for its artistic and artisan components, which are limited because of the few artisans that master it. The market appreciates the effort, quality, and tradition of this technique, as well as its great exclusivity."
Dark Eyed Snake, by Bagues Masriera. Ring with basse-taille fired enamel and diamonds set in 18K yellow gold
Bagues Masriera brought stunning pliqué-à-jour and basse-taille fired enamel pieces to Vegas, such as their bat-inspired Majestic Night ring and Night Friends earrings, as well as the Dark Eyed Snake ring. As you can see in these images, both pieces play with giving these creatures a sensuous luxury which is heightened by the use of colour.
Night Friends by Bagues Masriera. Earrings with pliqué-à-jour and basse-taille fired enamel and diamond, set in 18K yellow gold.
Agaro Jewels also introduced customisable enamel pieces to their collection. Using Indian and Persian elements, customers could select jewellery type, shape, style, size, and wood accents for a piece that was one-of-a-kind, all set in 22K gold.
In response to the rising female self-purchase demand, and the reinvention in preparation for the 2019 changes, the Vegas shows were resplendent in colours and designers made beautiful strides in unique artistic directions. Always a delight, we look forward to next year's Vegas gems.
Olga González FGA DGA is a regular contributor to Gem-A's Gems&Jewellery and is the CEO/founder of Pietra PR with over ten years of experience in the field of jewellery communications. She currently serves as president of PRSA-NY, is the networking director for the Women's Jewelry Association New York Metro Chapter Board, and regularly writes for consumer and trade publications on gem and jewellery-related topics.
Interested in finding out more about gemmology? Sign-up to one of Gem-A's courses or workshops.
If you would like to subscribe to Gems&Jewellery and The Journal of Gemmology please visit Membership.
Cover image: The Garden of Delight. A collaboration by Paula Crevoshay and Nicolai Medvedev, featuring Montana sapphires, malachite, azurite, diamonds, coral, rhodochrosite, lapis lazuli, tigers eye, opal, tsavoraite, matt-tse-tsite, spinel and gold.