Top 10 Luxury Brands: The Jewellery Connoisseur's Wish List
Do you dream about a sparkling high jewellery collection featuring world-leading brands? Christa Van Eerde MA MLitt FGA DGA discovers the quintessential pieces from the top 10 houses leading the luxury jewellery sector.
CARTIER
Every jewellery enthusiast desires a Panther or Tutti Frutti piece. The iconic panther is rooted deep within Cartier's heritage, and exudes luxury, elegance and strength. It is hard not to love the faceted diamonds juxtaposed with sleek black onyx. Inspired by Jeanne Toussaint, Cartier's artistic director from 1933 - 1970, the panther was a favourite of the Duchess of Windsor, Wallis Simpson, who wore the figurative pieces, (once the unwritten reserve of the likes of actresses and prostitutes), with bravado and pride.
Cartier Tutti Frutti Necklace.Cartier Tutti Frutti Necklace.Image courtesy of Cartier.
Bursting with titillating colour, Tutti Frutti provided a welcome step away from the monochromatic styles that dominated the Art Deco period, offering a perfect example of East meets West with its carved gemstones and European technical mastery. Though the iconic style was created in 1901 by Pierre Cartier and remained popular deep into the 1920s, it was not until the 1970s that the style became known as Tutti Frutti.
HARRY WINSTON
Harry Winston, "King of Diamonds," "Jeweller to the Stars…" No photographs of young Harry exist for security reasons, he was always carrying large gems! Some of the most famous stones passed through Winston's hands, including the Jonker, a 726-carat rough diamond he shipped to his New York headquarters through regular registered mail, and the renowned Hope Diamond, a 45.52-carat rare blue diamond, once owned by Louis XIV, Marie Antoinette, and Lord Henry Hope, and now housed in the Smithsonian collection in Washington DC.
Harry Winston and his pioneering designers put the gemstone at the centre of each creation, and did not allow the metal setting to detract from the stone in any way. My ideal piece would encompass Harry Winston's characteristic 'cluster' technique and have the 'Winston Look': timeless, exclusive, and glamorous.
VAN CLEEF & ARPELS
The dream Van Cleef & Arpels creation for any jewellery aficionado has to be a ballerina brooch incorporating the mystery setting, also known as invisible setting. Patented in 1933, the mystery setting allows stones to magically float, suspended without any evidence of prongs or a mount. As a dancer trains for countless hours to master their art, the mystery setting, which was created prior to contemporary cutting and setting technologies, requires many months to create, so both deserve a round of applause!
Another creation that would be a musthave on the wish list is a Zip necklace, convertible jewellery at its finest (it can be worn as a necklace or bracelet) and a true feat of jewellery engineering. It was first produced in 1950, the result of a challenge from Wallis Simpson to Renée Puissant, the Maison's artistic director and daughter of Alfred Van Cleef, to create a necklace that literally acted like a zip fastener. It remains a distinct stronghold in Van Cleef & Arpels' collection today.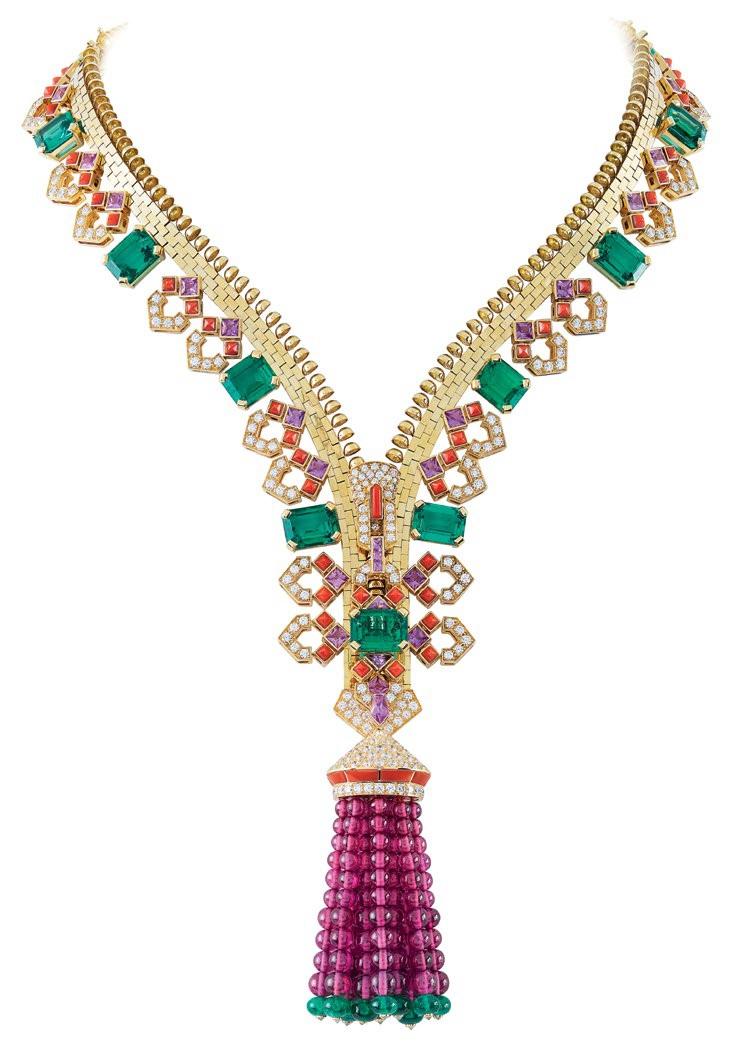 Van Cleef & Arpels Zip Antique necklaceVan Cleef & Arpels Zip Antique necklacein yellow gold, with round diamonds, coral,princess-cut sapphires, rubellite, emeraldbeads and 16 emerald-cut emeralds of44.75 carats (from Zambia).
BULGARI
No collection would be complete without a Bulgari Serpenti bracelet. Bulgari was founded in 1884 by Sotirio Bulgari, a man of Greek heritage who lived in Rome, and the influence of Greek and Roman mythology and culture is highly felt in all Bulgari designs. The serpent has become synonymous with the brand, and represents wisdom, vitality and seduction.
The Tubogas technique, which requires no soldering and hides a spring, was inspired by a Roman practise comprising of twine twisted in a decorative manner and allows the supple bejewelled snake to coil around the wrist or nestle on the shoulder. Elizabeth Taylor, a huge Bulgari fan, wore the 1961 version of Serpenti on the movie set of Cleopatra. Since then, the Bulgari serpent has continually shed its skin and reinvented itself.
DAVID WEBB
A David Webb animal bracelet is craveworthy, particularly if it is a zebra motif, emblematic of the brand. One of the most significant American jewellers, David Webb created pieces featuring the entire animal kingdom; favorites include: frog, monkey, giraffe and elephant. Webb loved antiquity, studied the Incas, and collected objects from Syria, Turkey, Egypt, China and Africa.
He said, "I believe the things I make have museum quality and hopefully will last as long as the originals that inspired them". Webb desired to create versatile, textured, and volumetric jewellery which could transition easily from day to night. He had a passion for making the ancient look refreshingly current with bold, geometric, and architectural designs.
GRIMA
Self-taught, Andrew Grima let his imagination run wild with his conversationstarter pieces. Unquestionably one of the greatest jewellery designers of the 20th century, Grima's organic, fantastical yet wearable designs have inspired many. He was a champion of unusual and rough (non-faceted) stones, and used diamonds to accentuate bold pieces rather than take the spotlight.
Agate brooch (left) and aquamarine ring both by Andrew Grima. Images courtesy of Grima Jewellery. 
You really need to see and wear a piece to fully appreciate Grima's mastery. Grima boasts many notable fans, names include but are not limited to: HRH Princess Margaret, HRH Princess Anne, Jackie Kennedy Onassis, Ursula Andress, Gwendoline Christie, and Marc Jacobs. HM the Queen often wears a gold, carved ruby and diamond Grima brooch gifted to her by HRH Prince Philip in 1966. 
JAR
JAR stands for Joel Arthur Rosenthal, who said "Everything conspires to make you bigger and more public, my instinct and my radar, my selfishness and arrogance and above all the passion for happiness told me to stay small, stay silent, do what you want to do, don't be seduced, don't be enticed, just get on with it the way you think it should be done". After working for Bulgari, JAR launched his own Maison on Place Vendôme in Paris in 1978.
Notorious for being elusive and maintaining his privacy with a discrete shop that one can only get entrance to through a contact, his vivacious flora and fauna designs inspired by nature cannot help but leave one flabbergasted. He is a master of the pavé technique, a setting that consists of myriad small faceted gemstones set tightly next to one another in platinum or a metal alloy he developed to bring out the intensity of the gemstone's colour. JAR produces approximately 100 pieces a year and his work commands staggering results at auction. 
BOUCHERON 
Boucheron creates unique pieces exemplifying technical mastery and epitomising creative design. My heart would be set on a Boucheron tiara, of which there are many in HM the Queen's collection and which no collection would be complete without.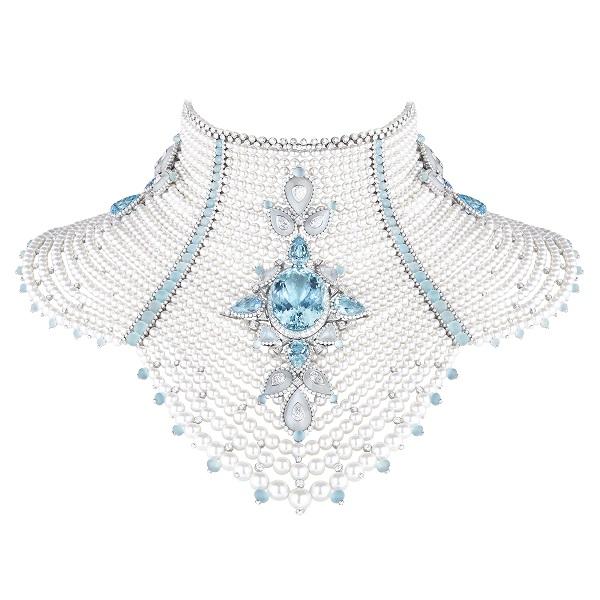 Boucheron Baïkal necklace. Image courtesy of Boucheron.
Just as Tsar Alexander III, Maharajah Sir Bhupinder Singh of Patiala, Riza Shah Pahlevi, Queen Farida of Egypt and Queen Rania of Jordan have thought. Who knows, maybe the infamous and currently lost wave tiara from 1910 inspired by Hokusai's The Great Wave of Kanagawa will reveal itself one day.
SUZANNE BELPERRON 
Albeit recognisable, Belperron is tricky to collect as she never signed her work and you will have to compete with the likes of Karl Lagerfeld, owner of one of the largest Belperron collections. Belperron worked for Maison René Boivin, under the founder's widow, Jeanne Boivin, until 1932, when she left to become the Artistic and Technical Director of the Maison Bernard Herz.
Her creations reveal her deep appreciation and fondness for nature, contain motifs from a range of cultures: African, Cambodian, Celtic, Egyptian, Indian and Mayanin, and typically combine precious stones with hammered gold. Her famous following included Jean Cocteau, Elsa Schiaparelli, The Duke and Duchess of Windsor, Daisy Fellowes, Fred Astaire and Aga Khan. Any piece by Belperron is a moveable feast, from the hand of one of the few women who broke into the world of early 20th century jewellery with a tour de force. 
TIFFANY & CO. 
Another essential would have to be a piece by Jean Schlumberger, who began his career as a button and costume jewellery designer for Elsa Schiaparelli. One of only four jewellers Tiffany & Co. has allowed to sign their work (the others are Paloma Picasso, Elsa Peretti and Frank Gehry), Schlumberger's best work is associated with the infamous Tiffany blue box. His poetic and often witty designs feature vibrant colour through the use of gemstones and enamel, and his creatures are animated and magnificent. ■
This article originally appeared in the Winter 2018 edition of Gems&Jewellery. Read the issue online here.
Start your gemmology journey with Gem-A Workshops and Short Courses, or find out about our Gemmology Foundation course here. 
Cover Image: Cartier Panthère bracelet and aquamarine ring by Andrew Grima. Images courtesy of Cartier and Grima Jewellery.