The Role of Fingerprinting Technology in the Fight Against the Ivory Trade
At New Scientist Live, Barbara Kolator B.Sc. M.Sc. FGA DGA EG met with Dr. Leon Barron, senior lecturer in Forensic Science at Kings' College London about some innovative fingerprinting technology with implications for gemmologists, antique dealers, collectors and wildlife conservationists worldwide.

As you may have recently seen in the news, the UK Government intends to ban the sale of all ivory (with some exceptions).
The team, including Dr. Barron from Kings' College, Mark Moseley who works with the Metropolitan Police, and David Cowdrey from IFAW (International Fund for Animal Welfare), has been instrumental in this ban with the development of a technique for the recovery of human fingerprints from ivory.
This kind of testing was identified as a priority in 2014 by Law Enforcement Agencies and the team furthered galvanised by a request from Mark's children that he should do something about elephant poaching. Since then the children have had the opportunity to demonstrate the kit themselves. It was also shown that at the US Embassy and IFAW currently fund kits to any country requesting them. So far at least 60 kits have been sent to 15 countries across Europe and Africa.

Fingerprint testing kit. Image by Leon Barron.

How does it work and who is it for?

The technology is very simple. Normal fingerprints cannot be lifted from ivory, its odontogenic pores soak them up within a day or two. With this chemically tailored and finer magnetic powder, less fingerprint sweat material is needed and the powder can adhere to residues from 28 days previously, although they are still at their best quality within the first seven days.
The powder can be coloured for use on dark materials such as rhino horn. Jewellery made with rhino horn is now beginning to appear on the market. The kit has also been tested successfully on tiger claws, hippopotamus teeth, sperm whale teeth and even bird's eggs.
The kit costs £100 and comes in a robust lightweight field case suitable for use in remote or hostile range areas. Everything needed to carry out the forensic test is inside and the powder itself is relatively inexpensive.

Demonstrating fingerprinting kit. Image by Leon Barron.

The kits have been used successfully by the Kenyan Wildlife Service. Their use has already led to 15 arrests including those of five police officers. Border officials have also performed tests at airports when ivory has been found.
The kits have been validated to UK Home Office guidelines and excellent results have been obtained for individual identifications using in-service fingerprint databases.

28-day old fingerprint on ivory enhanced with reduced scale powder. Photo by Barbara Kolator.

In the absence of databases in several countries, Barron explained, fingerprints can also be used for comparison to those of known suspects to see if they are connected or can be excluded from the investigation. This helps with policing and enforcement even at a basic level.
The aim now is to gather large amounts of data to enable these databases to be built from the ground up. Fingerprint technology was chosen because it is simpler to use, but now even DNA can be extracted at a later date if required.
Why is this important?

The trade in illicit ivory is increasing and the UK is a major trafficking centre, with ivory from Africa going to Asia, passing through British ports and airports. In 2007 there were 11 seizures of ivory, in 2015 there were 345 including one of 100kgs at Heathrow Airport. This was the largest seizure in the UK. The unworked ivory and bangles were chopped up to fit into suitcases and were en route from Angola to Germany where they were going to be carved.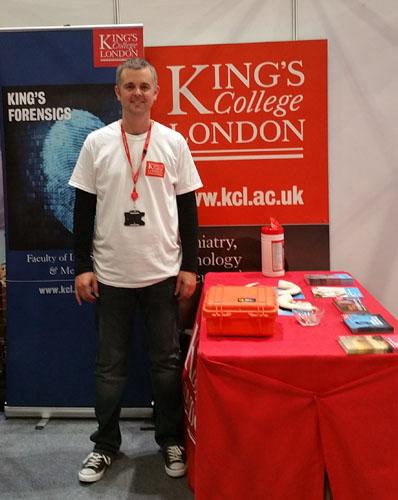 Leon Barron at New Scientist Live. Image by Leon Barron.

So how will this novel technology impact gemmology and the antique trade? How will the industry respond? Is it worth remembering that the illicit trade in endangered species not only damages the planet but also involves organised crime terrorism on a global scale?
Is there a way of protecting and controlling endangered species, conserving ancient ivory works of art while at the same time making the trade of ivory so unprofitable and undesirable that it goes out of fashion? Perhaps this is a good time for some reasoned debate?
For more developments watch this space.

Electron micrograph of a reduced-size magnetic particle. Image by Leon Barron.

Interested in finding out more about gemmology? Sign-up to one of Gem-A's courses or workshops.
If you would like to subscribe to Gems&Jewellery and The Journal of Gemmology please visit Membership.
Cover image Examples of fingerprints enhanced on a full tusk, the top image complete with annotations. All images by Leon Barron unless otherwise stated.