Gems&Jewellery Winter 2019 is Available to Read Now!
We are pleased to announce that the Winter 2019 issue of Gems&Jewellery is now available to Gem-A Members in print and online.
Our quarterly magazine includes exciting updates from the world of gemstones and jewellery, interviews and features from industry experts and the latest Gem-A news.
On the cover of this season's issue is the winning photograph from the Gem-A Photographer of the Year Competition 2019; 'Microchip' by Evgenios Petrides is a photomicrograph of an iron oxide inclusion in a quartz specimen from Brazil. Over on pages 30-32 we celebrate the extremely high calibre of entries to this year's Competition with a gallery of all the amazing images that made the final shortlist.
In this issue we bring you some key updates from Gem-A, including changes to Gem-A Membership and all you need to know about Gem-A Conference 2019! Turn to page 15 to read about Bingjie Zhao's 'Trawling', the winning design of this year's Gem Empathy Award announced on the opening day of International Jewellery London 2019.
A serial number mark inside the crown facet of a diamond. Image courtesy of Opsydia.
Head to page 28 to read our interview with Andrew Rimmer, CEO of Opsydia, a British company that specialises in diamond laser inscription technology. In this feature, we hear the fascinating story behind this new, ground-breaking technology and what it may mean for the future of the diamond industry.
The Gem-A student project featured in this issue comes from Saúl Castro Gómez, who shares an abridged version of his Gem-A Diamond Diploma project which explores the innovative ways in which diamonds have been used to improve ophthalmic surgery.
A Regency foil-back pink topaz, turquoise and pearl set cross in a typical cannetille work gold frame. Image courtesy of Charlotte Glyde, Woolley & Wallis.
John Benjamin concludes his final Gemstone Conversations column of the year with a focus on the use of topaz in antique jewellery, exploring the various colours and settings in which this gem appears, its historic symbolic significance and its fluctuating popularity through the years. Flick forward to page 44 where we have an insight into some incredible emerald specimens currently on display at New York's Wilensky Gallery – complete with some truly mesmerising images!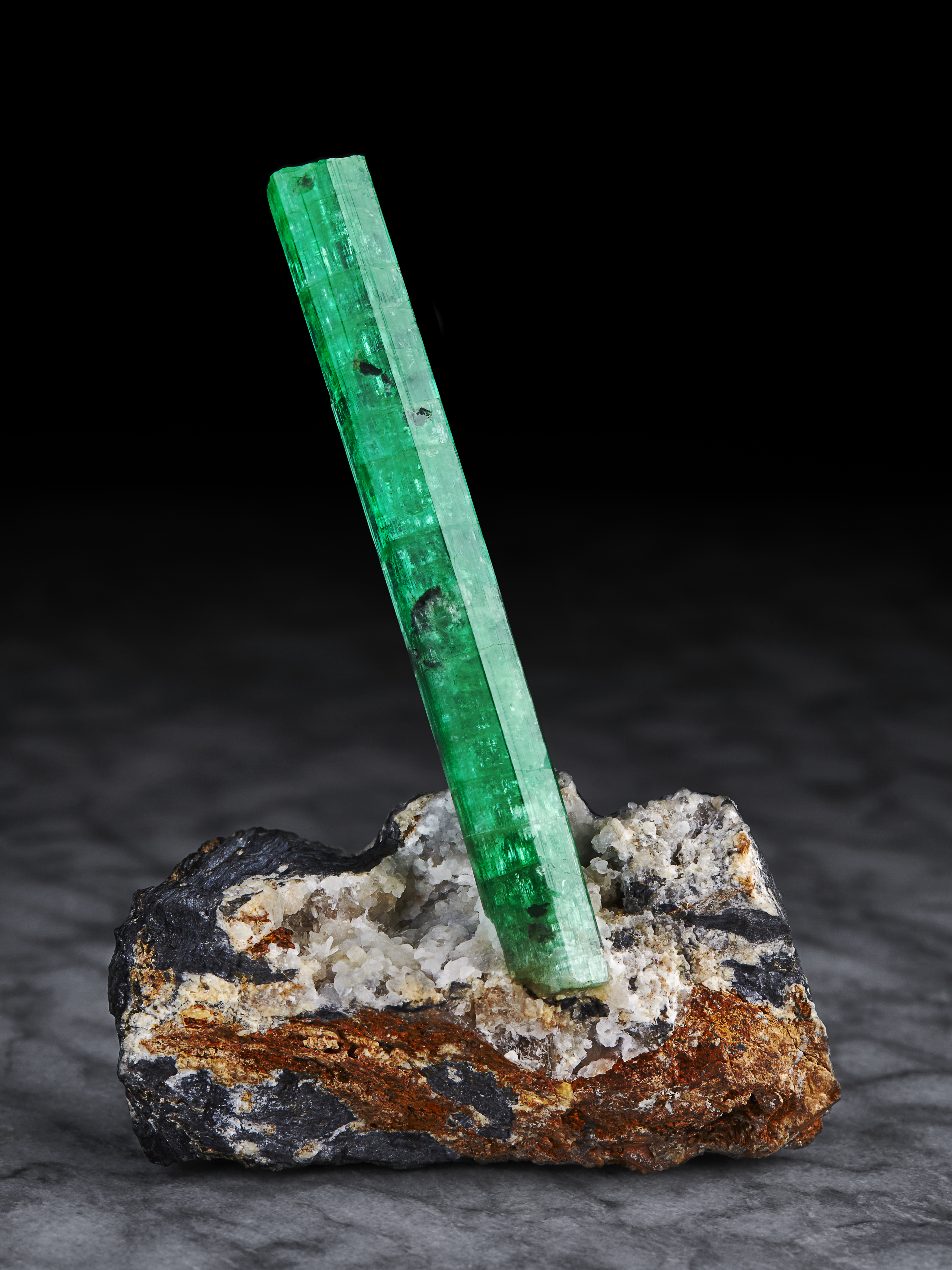 Emerald, Swat Valley, Khyber Pakhtunkhwa, Pakistan (8 cm tall x 6 cm wide). Dr Eugene and Roz Meieran Collection. Image courtesy of Wilensky. Photo by Evan D'Arpino.
This issue's Retail Focus feature hones in on the findings of a recent report commissioned by the Diamond Producers Association: Total Clarity. The report was commissioned in order to determine and outline the true social and environmental impact of the diamond mining industry and the results are both eye-opening and intriguing – this is one article that is not to be overlooked!
Following Retail Focus, we have an interview with gemmologist E. Billie Hughes, recent winner of the American Gemological Association's (AGA) 2019 Gemological Research Grant, who tells us about her upcoming project that will focus on heat treatments on corundum. On pages 38-39 we go back in time with Gem-A Instruments Assistant, Sophie Cox, who takes us through the evolution of one of the most essential tools to a gemmologist, the refractometer.
Tsavorite rough from Taita Taveta, Kenya. Image courtesy of Charles Lawson.
Also in this issue, we have a feature on the history of gemstone trading on the Silk Road and a column on an incredible collection of Swiss quartz crystals. In addition, you can read reports on field trips to Russia's Ural Mountains, garnet and tourmaline mines and sustainability events in Kenya, and a museum in Kefalonia containing a fascinating antique jewellery collection.
With a varied host of features from contemporary developments in the gemstone and diamond industries, to interesting discussions on antique jewellery, we are sure that our final Gems&Jewellery for 2019 will prove to be an entertaining and insightful read! See you again in January for our first Gems&Jewellery of 2020!
Gem-A Members and students can access a PDF version of Gems&Jewellery here. Simply access the archive with your log-in details. 
Would you like to receive print editions of Gems&Jewellery and The Journal of Gemmology straight to your door? Become a Gem-A Member today.
Do you have an idea for an upcoming Gems&Jewellery feature? Share your thoughts with our editorial team on editor@gem-a.com.