Historic Uses of Topaz Gemstones in Jewellery
Jewellery historian and valuer, John Benjamin FGA DGA FIRV, shares insights into the history of topaz gemstones in jewellery, including its symbolism, fluctuating popularity and evolving style.
Topaz is one of the most elegant and subtle of gems. I studied first year gemmology in the early 1970s. Our excellent tutor, Denis Inkersole, invited the class to try to identify a topaz in a small parcel of brown gems purely from touch alone. I distinctly remember that 'slippery' feel of the topaz — so very different from the assorted citrines and zircons making up the rest of the parcel.
This 'slippery' characteristic of topaz proved very helpful a number of years later when I was asked to value a Georgian necklace of large, graduated pink stones described on an old valuation as 'foiled rock crystal'. Needless to say, they were high grade pink topaz — and worth a small fortune.
Topaz is a rather enigmatic stone; if only it were as popular today as it was 200 years ago. Today, while it is appreciated by gemmologists, dealers and the public, it only seems to be used sparingly in contemporary designer jewellery. True, the blue variety is decidedly affordable and seems to have widespread appeal but most of this material is irradiated and heat treated.
A personal opinion, of course, but modern topaz simply doesn't have the pedigree or desirability of the rare and beautiful brown and pink varieties so favoured in Georgian times.
Historic Topaz Gemstone Jewellery 
Topaz has been used in decorative jewellery for centuries. No doubt due to its association with purity and goodness, it was favoured by cardinals and bishops in their ceremonial rings. George Frederick Kunz, leading gemstone and jewellery authority (after whom kunzite was named) remarks in his celebrated book Rings For The Finger that topaz was "the most honourable of stones above all other stones" and goes on to say that Pope Innocent III (1198-1216) sent Richard Coeur de Lion four gold rings each set with a different symbolic stone.
A mid-eighteenth century topaz pendant, designed as a cushion-shaped topaz cluster set with lighter coloured and smaller topaz, suspending a further cushion-shaped topaz and an open work foliate cluster and with a larger pear-shaped topaz within lighter coloured topaz surround closed back silver mount. 7.2cm high.
He writes that the "verdant hue of the emerald signifies how we should believe, the celestial purity of the sapphire how we should hope, the warm colour of garnet how we should love and the clear transparency of topaz how we should act".
The gem was used in Renaissance jewellery as a relatively inexpensive stone in simple pendants and rings while colourless topaz was an effective substitute for diamonds throughout the 16th century.
Its use never really flagged over the next 200 years in Continental Europe and, with advances in diamond cutting and setting, the soft, golden brown tones of topaz made an ideal accompaniment for table-cut and rose-cut diamonds in large, formal dress jewels such as stomachers and bodice brooches. The topaz used in these grand constructions were generally flat-cut and of oval and cushion shape. Gold was rarely used; the universal setting was silver or occasionally silver gilt and, unlike nineteenth century mounts, the stones themselves were fully enclosed at the back and sometimes foiled to enhance colour and overall appearance.
The 'Golden Age' of Topaz Jewellery
As popular as it may have been in early Continental jewellery, the 'Golden Age' for topaz only really took off once Portuguese traders began to exploit the vast mineral resources of Brazil. By the middle of the 18th century large, fine quality crystal specimens were being shipped to Lisbon and Porto where they were cut by lapidarists and set by jewellers in a wide range of jewels, including ornate pendants and brooches, necklaces and extremely long earrings that brushed the shoulders of the wearer.
Eighteenth-century topaz jewellery is highly sought after today for its beauty and rarity although many examples available on the market today are modern reproductions or have been put together from several other pieces.
Georgian Topaz Jewellery
These days, topaz is best known for its abundant use in Georgian jewellery. The early 1800s was the era of sentimentality and romanticism and topaz, alongside other gems of subtle appearance such as aquamarine and chrysolite, was highly compatible for use in the delicate, feminine gold jewels popular at that time.
The archetypal Georgian or Regency parure would be composed of large, bright, oval-shaped topaz mounted in gold filigree-style frames known as cannetille work, together with a chandelier brooch called a girandole, a pair of matching bracelets and long pear-shaped earrings. Rings would be set with a foil-backed golden or pink topaz in a surround of half pearls while the gem is often found today in a broad range of sentimental jewels including keys, hearts, padlocks and jewelled anchors.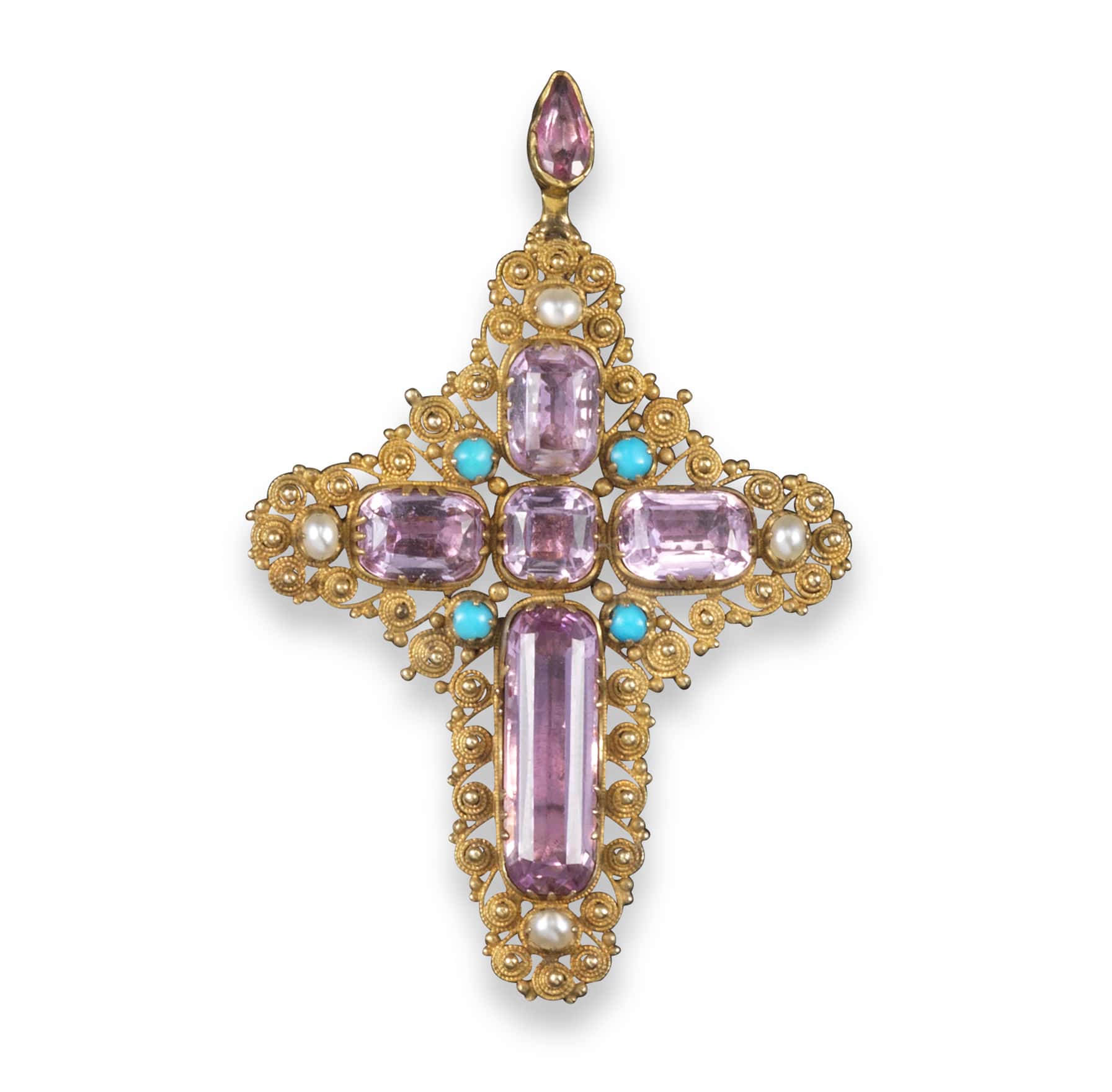 A Regency gold cross pendant, set with pink topaz, turquoise and seed pearls in a gold cannetille surround, 5cm long.
Rivières – necklaces of graduated oval-shaped, foil-backed stones – were also popular at this time and have enjoyed something of a revival today, no doubt due to their simple, elegant and timeless construction.
Victorian Topaz Jewellery
The continued use of topaz throughout the Victorian era in large, diamond-set gold brooches and rings experienced a late surge in popularity in Russia at the end of the 19th century when deposits were discovered in the Ural Mountains. So-called 'Imperial' topaz was named in honour of the Czar and is notable for its lovely pinkish-gold colour.
A Victorian topaz and diamond brooch, the oval orange topaz weighs approximately 13.00cts, set within a surround of rose-cut and a surround of cushion-shaped diamonds in silver and gold. 3.1cm long. 
Unsurprisingly, it was selected by leading jewellers and goldsmiths such as Fabergé in diamond-set brooches of Neo-Classical inspiration, evoking the lapsed styles of the Regency era. As the 20th century progressed, topaz seemed to lose its popularity as the fashion for architectural diamond jewellery of the Art Deco era began to surge. 
Somehow, golden-brown gems in diamond and platinum frames didn't quite have the same appeal as ruby, sapphire, onyx and emerald and, while brown stones certainly became fashionable after the War, these were almost all citrines — far cheaper than costly topaz. If ever there were a gem which is due a revival, and a proper reassessment of its unique, ethereal beauty, it must be the topaz.
Discover more jewellery insights from John Benjamin, including guides to turquoise, amethyst and garnet. Jewellery designers, valuers and amateur vintage jewellery lovers can expand their knowledge with the Gem-A Gemmology Foundation course. Discover more about studying with us here.
All images courtesy of Charlotte Glyde, Woolley & Wallis.
Main image: Late 19th century demi-parure with topaz gemstones (left) and 18th century amethyst and topaz parure.