Field Trip: Exploring the Wonders of Myanmar
Gem-A member Patricia Campion reports on a recent gemmological field trip to Myanmar, highlighting her experiences of gemstone market places, the Myanmar Gems Museum, in Yangon, and seeing mushroom tourmaline for the first time.
On Christmas Day, our group met in Yangon for a gemmological tour of Myanmar organised by Pauline Jamieson for the Scottish Gemmological Association. Just before we left for Myanmar, our plans suffered a fundamental blow with the Government closure of Mogok to all foreigners due to local civil unrest. However, the organisers did a wonderful last minute job of rearranging our itinerary to ensure that we saw and did much to make up for missing out on the famed ruby mines.  
Our gem tour proper commenced in Myitkyina (pronounced My-chee-na), which is home to Myanmar's licensed amber markets. Much of the local amber is a distinctive deep red, although a wide spectrum of colour was available. Burmese amber deposits are considerably older than Baltic amber (up to 100 million years old) and the quality and clarity was high, with some very fine specimens containing preserved insects and plants. The market sold a wide variety of jewellery, carvings and beads as well as rough amber.
As is true all over Myanmar, traders were friendly and very pleasant but prices were higher than expected due to the proximity of the Chinese market.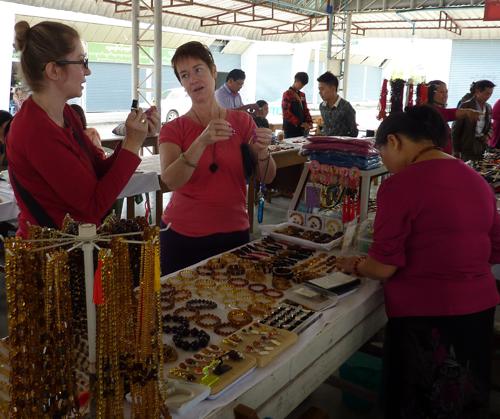 We also visited some interesting local emporia specialising in jade and got our first glimpse at the many and varied hues available, from magnificent, almost translucent imperial jade through the spectrum of greens, greys and lilacs to white jade and almost transparent 'ice' jade.  
Arriving in Mandalay, we sallied forth into the infamous Mandalay jade market. Moving at speed through the crowded, cramped space where experts trade jade, we were surrounded by frenetic activity making it an unreal but truly exhilarating experience. In the lower octane atmosphere of the surrounding stalls outside the official jade market, pieces of rough jade could be purchased inexpensively.
Next we visited a family run business selling good quality Mogok ruby at reasonable prices. Their stones had received some heat treatment, but were lively and of good colour and devoid of fissure filling or other undesirable treatments. Later we met gem dealers who had travelled from Mogok, offering a large stock of mainly spinel, peridot, ruby and sapphire.
Star ruby and star sapphire were plentiful, with sapphire tones ranging from deep blue through purples and pinks to silvery grey and creamy yellow. While some stones were marred by rather crude cutting or damaged through poor storage (endemic across Myanmar it seems), the variety of colours available in spinel in particular, was superb.   
The Myanmar Gems Museum, in Yangon, afforded us a wonderful overview of the many rich treasures of Myanmar. Emporia housed within the same building yielded deep green peridot and pale but very clean aquamarine as well as the usual spinel, ruby and sapphire. Many of us appreciated the colour zoned or bi-coloured unheated sapphires, considerably paler than the famed Burmese blue, but prices were prohibitive.
Colourful zircons and sizable rutilated topazes were also plentiful. However, the highlight was the discovery of mushroom tourmaline - a remarkable phenomenon which occurs near Mogok. The ones we saw were grey to pale pink in colour and we also managed to unearth wonderfully colourful cross section slices.
Our time in Yangon encompassed visits to the famed Mogok Street, where many gems are traded, and a whistle stop tour of Bogyoke Aung San Market (formerly known as Scott's Market) where we got our first real chance to see Myanmar golden pearls among other treasures. We also got the opportunity to trade ourselves and perching on stools on a street corner we were instantly surrounded by dealers. Their stock was again mainly ruby, spinel and sapphire both rough and polished, plus some wonderful but rather pricey zircons.  
The expertise and insight of our guide, Duncan Baker, meant that we got an unparalleled glimpse into Myanmar's phenomenal world of gems during our trip. As we departed back home we all agreed that if Mogok reopens we will return to this lovely country with its fabulous treasures and wonderful people. ■
Adapted by the author from an article originally written for the Scottish Gemmological Association. 
Interested in finding out more about gemmology? Sign-up to one of Gem-A's courses or workshops.
If you would like to subscribe to Gems&Jewellery and The Journal of Gemmology please visit Membership.
Cover image rough amber samples. Image courtesy of P. Jamieson