Gem Central Exploring Ruby Treatments with Julia Griffith FGA DGA EG
Gem-A gemmology and diamond tutor Julia Griffith FGA DGA EG led a gem central titled Exploring the Differences between Glass In-filled, Flux Healed and Lead Glass-filled Ruby, in an informative and engaging gem central evening. Julia summarises the evening here for those that missed out.
The latest Gem Central evening held on 30 April at Gem-A HQ focused around three treatments of ruby; glass in-filling, flux healing and lead glass-filling. These treatments all aim to treat fractures and/or cavities within ruby which as a result alters the transparency, apparent clarity and durability of these treated stones.
I was originally asked to discuss the topic of ruby treatments at the Institute of Registered Valuers (IRV) conference in November 2016. These treatments have been the matter of confusion and debate over the last 33 years.
'Surface repair' (also referred to as 'glass-filling' and glass-infilling) came onto the market in 1984 but was rejected by the European market. Flux-healing flooded the trade in 1992 and dominated the market for over a decade and is still hugely prevalent in the market today. Lead glass-filling has been on the market since 2004; the starting material for which is industrial grade corundum so this treatment has hit the market in the tonnes.
The terminology used and the aims of these treatments are all similar, however, there are significant differences, which will affect the way laboratories and traders will classify these gems. Therefore it is important for the gemmologist to understand and recognise these treatments in order to identify them correctly.
Further discussed were the treatment methods, the effect of the treatment and identification features of each treatment. Also highlighted was the cross-over between what can be classed as 'flux-healed' and 'glass infilled' and how this effects the disclosure of these treatments.
The workshop focused on the importance to being able to recognise the different identification features, disclosure and the stability of these treatments.
The Gem Central evening hopefully shed some light on these three treatments. Many visual aids were available and plenty of specimens to view.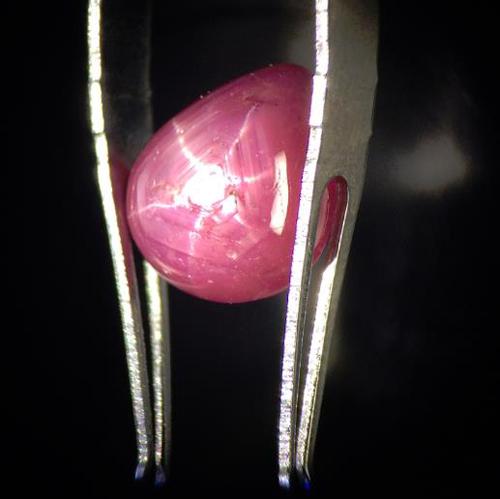 For the first time the Gem Central evening was recorded in view of making our Gem Central talks accessible to members and students worldwide. It was a very exciting new venture to be a part of.
I would like to express special thanks to Richard Hughes (Lotus Gemology, Christopher Smith (AGL), Henry Haenni (SSEF), Stasha Tereszczuk (David J Thomas) and Tom Stephan (DGemG) for assisting me in my research and understanding. ■
Interested in finding out more about gemmology? Sign-up to one of Gem-A's courses or workshops.
If you would like to subscribe to Gems&Jewellery and The Journal of Gemmology please visit Membership.
Cover image flux-healed rubies. Image courtesy of Julia Griffith.