Explore the History of Garnet in Antique Jewellery
Gems&Jewellery is delighted to welcome jewellery historian and valuer, John Benjamin FGA DGA FIRV as our columnist for 2019. As part of a new Gemstone Conversations series, John explores the history of the use of garnet in antique jewellery and tells us why we should give more credit to this special yet undervalued gemstone.
I have often thought that garnet is a rather underappreciated stone. True, it is extremely common and turns up in everything from ancient gold rings to cheap, modern, mass-produced bijouterie — but this misses the point, which is that the sheer beauty and versatility of garnet meant that right up to the beginning of the 20th century it was consistently one of the most popular of all gemstones used in decorative jewellery.
Garnet was esteemed by the Romans at a time when a vivid gemstone conveyed wealth and status. Fine examples were polished into cabochons or cut into cameos and intaglios depicting classical figures or deities. By the 5th and 6th century garnet was often the stone of choice with small, simple, domed or faceted examples providing a decorative embellishment to Anglo Saxon brooches, pendants and buckles.
No doubt because of its widespread availability it was frequently set into medieval rings and ornaments and by the late 16th and 17th century its sheer abundance and desirability led to it being used throughout Europe in everything from rings and earrings to opulent pendants, usually accompanied by colourful, polychrome enamel and gold mounts.
Many of these Renaissance and later garnets were polished into large and irregular-shaped hollow-back cabochons known as 'carbuncles' and were usually rich, purplish-red almandines from India and Ceylon. There are quite a large number of these garnets on display in the incomparable Cheapside Hoard at the Museum of London.
For me, part of the allure of garnet is the broad range of colours available and I have always admired hessonites, not only for their rich, orangey-brown colour but also for their interesting 'treacle-like' inclusions. Since garnet is a reasonably hard gemstone it provides an excellent cutting surface, so from the 16th to the 18th century hessonite (known in those days as 'Jacinth' or 'Hyacinth') was a popular stone for fashioning into cameos or setting into bracelet clasps.
Undoubtedly, it was the late 18th and early 19th century when garnet really came into its own. Flat-cut almandines of cushion, pear and circular shape were artfully set into parures comprising a necklace, a pair of bracelets, earrings and a brooch. Foiling the stones and fully enclosing the mounts at the back intensified their glowing appearance, especially when illuminated in candlelight.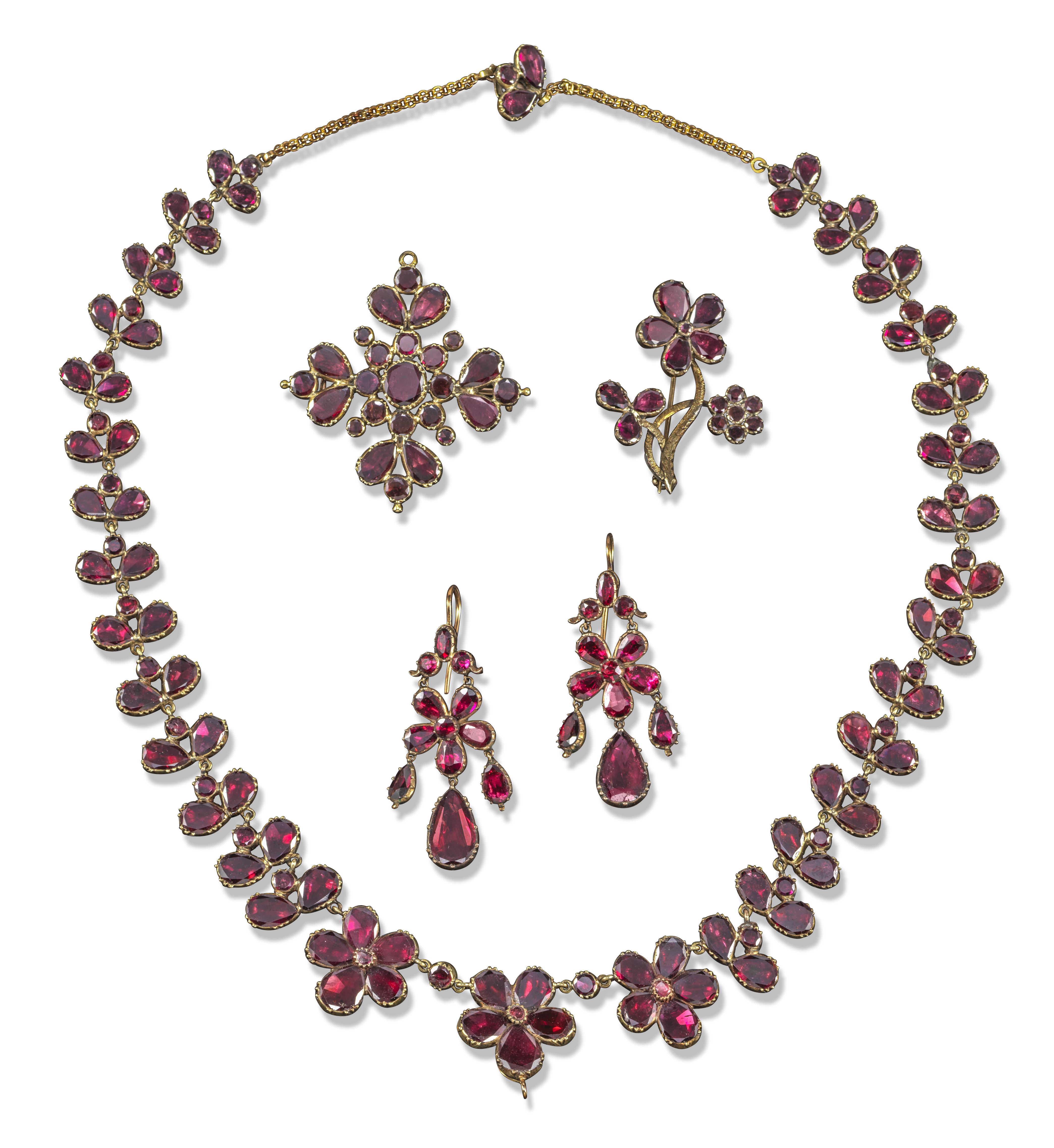 The use of garnet in moderately priced jewellery continued through the 19th century reaching a peak of popularity in the 1870s when 'Holbeinesque' jewellery – pendants and earrings of a design inspired by the look of the Renaissance – resulted in large pyrope cabochons being set in colourful, champlevé-enamelled frames often accompanied by compatible gems such as diamond or chrysolite.
This was the so-called 'Grand Period' of jewellery manufacture and the rich, vibrant colour of garnet provided the perfect vehicle for showing off bold and distinctive bracelets, brooches and necklaces.
Handmade craftsmanship gave way to mechanical, repetitive mass production at the end of the century. Garnet continued to be used in cheap central European jewellery often accompanied by inexpensive colourful gems especially turquoise, pale green beryl and pearls in poor quality, silver gilt settings.
At the same time jewellers in Czechoslovakia (now Czech Republic and Slovakia) began to set clusters of small simply faceted pyropes in base metal thus providing colourful but affordable bangles, brooches and earrings for the mass market. These 'Bohemian' garnets are very much of their time and are still very common today.
There was, however, one last moment of glory for garnet. Demantoid, the bright green variety of andradite garnet, had been discovered in the Russian Urals as far back as 1853. Nevertheless, it was not until the 1880s that it started to be set commercially in jewellery and accessories, firstly by Peter Carl Fabergé and subsequently by jewellers in London who obtained supplies from gem merchants such as E W Streeter.
The naturalistic green tones and adamantine lustre of demantoid perfectly conveyed the look of a reptile's skin or an insect's body, resulting in a surge of popularity in novelty brooches designed as frogs, lizards and dragonflies. 
While the more commonplace red varieties of garnet continued to be set in cheap, universally available nine carat gold rings and pendants until the First World War, by the 1920s its use had largely declined and, while it does appear in Post-War 'Retro' jewellery and, of course, in modern tsavorite and mandarin garnet rings, the 'golden years' of traditional, large scale garnets are now well and truly over. Abundant, often inexpensive and supremely versatile, garnet is surely one of the most underrated of all the better known gemstones.
If you would like to expand your knowledge on gemstones, find about what Gem-A's Gemmology Foundation and Gemmology Diploma courses have to offer.
This article and images were originally published in the Spring 2019 issue of Gems&Jewellery. Gem-A Members can read the issue here.
Cover Image: Late 18th/early 19th century Neoclassical hessonite cameo ring of the Emperor Tiberius. Images courtesy of Bonhams.