We are pleased to announce that the Autumn 2019 issue of Gems&Jewellery is now available to Gem-A Members and students in print and online.
Our quarterly magazine includes exciting updates from the world of gemstones and jewellery, as well as interviews and features from industry experts and the latest Gem-A news.
The Autumn issue begins with our CEO Alan Hart looking ahead to some of the most anticipated events in Gem-A's calendar, including International Jewellery London, the Hong Kong Jewellery & Gem Fair and of course the Gem-A Conference 2019! Turn to page 16 for an exclusive preview of the brilliant line-up of speakers and talks planned for this year's Conference.
An opal mine in Queensland, Australia. Image: Barbara Kolator.
On page 10 you can read Olga González' highlights of Las Vegas' jewellery and gem shows in June, which included Couture, JCK and AGTA GemFair. The shows may have been a departure from the norm, but the jewellery was bigger and better than ever. You can see some sparkling and inspiring examples from Valani Atelier, Lord Jewellery and L. Courteille Créations on pages 10 and 11.
Turn to page 12 to go on a journey through the Australian Outback with Gem-A collection curator, Barbara Kolator FGA DGA EG. Her account includes tales of visiting opal mines, sifting for sapphires and gemstone shopping!
Celebrated gemmologist and author, Renée Newman GG, tells us why we should consider redefining the 4Cs of diamonds and proposes a new system '6Cs and 2Ts' on pages 20-21. Directly following on page 22, we delve into the famous Al Thani Collection of treasures, including the 400 pieces recently sold by Christie's, and turn to jewellery historian Jack Ogden FGA for his expert opinions.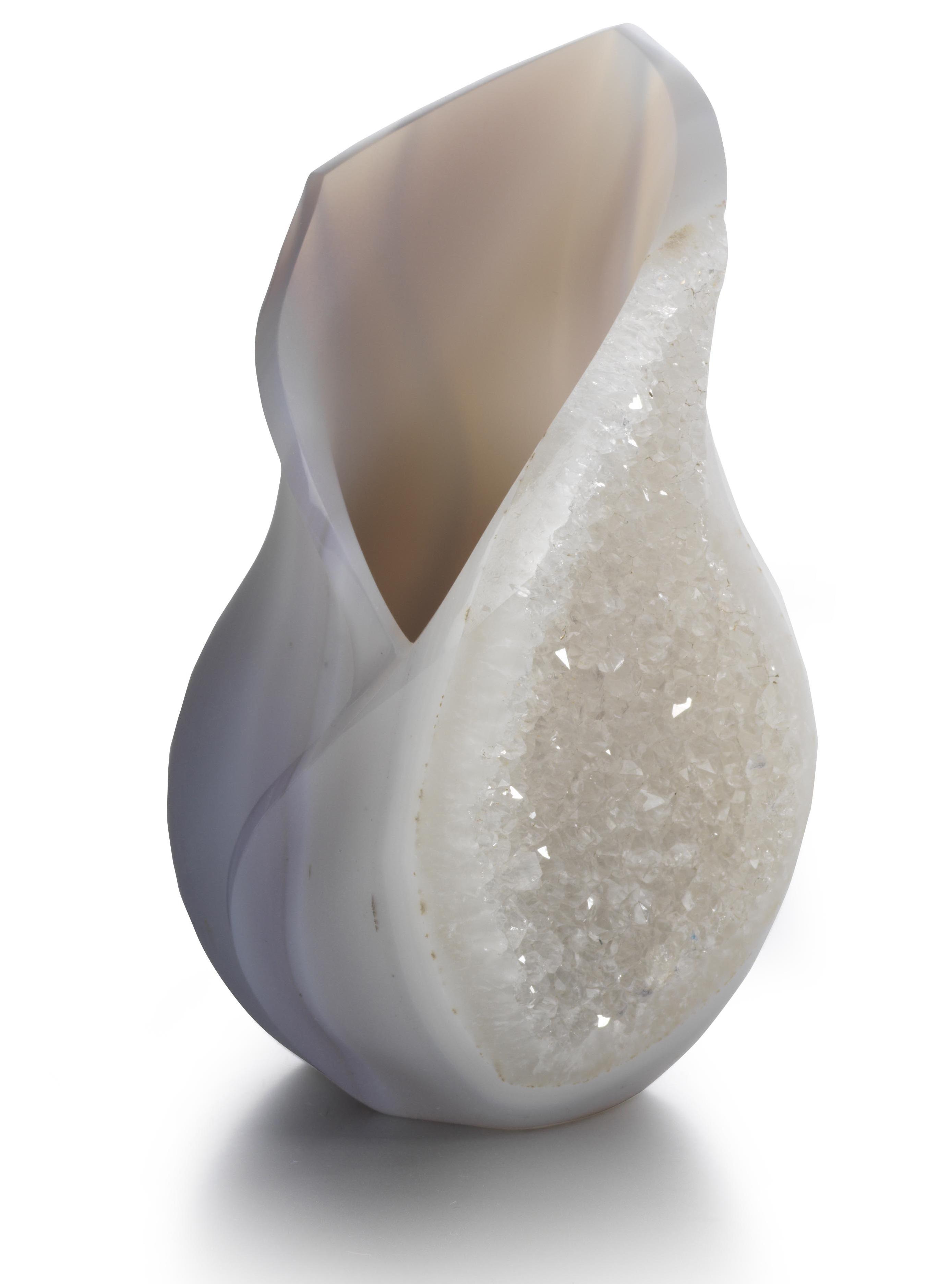 Sanni Falkenberg's Award-Winning Agate 'Moonflower' Vase. Image: Sanni Falkenberg.
Elsewhere, Brighton-based lapidary artist Sanni Falkenberg takes us through the step-by-step process of creating her agate 'Moonflower' vase, which won gold at the Goldsmiths' Craft & Design Council Awards 2019, while over on page 44, we bring you all the essential information – including the brilliant prizes up for grabs – about this year's Gem-A Photographer of the Year Competition!
The striking cover photo from this season's issue features the astounding 'Siren of Serendip' sapphire set in a white gold and diamond necklace. On page 36, Rui Galopim de Carvalho FGA DGA reports on the origins of this 422.66 carat gem and the process of transforming it into a magnificent piece of jewellery.
A Turn of the century gold necklace set with turquoises, turquoise matrix and blister pearls designed by Archibald Knox for Liberty & Co. Image courtesy of Charlotte Glyde at Woolley and Wallis.
Jewellery historian and valuer John Benjamin FGA DGA FIRV brings us the next instalment in his Gemstone Conversations series with an exploration of the various faces of turquoise in jewellery design history, from the courts of the Shahs of Persia to the cutting-edge jewels of the Art Deco era. To round off our issue, we look back on our visit to JCK and AGTA GemFair in Las Vegas and let you know where we are heading next!
If that wasn't enough, this issue also features articles on jewellery designer Sarah Ho's new Full Circle Collection; the interesting career and upcoming projects of Belgian jewellery designer Jochen Leën; tortoiseshell trading confusion; a Gem-A student project on 'The Importance of Jade in the Mughal Court'; and a quick introduction of the Ivory Act.
Gem-A Members and students can access a PDF version of Gems&Jewellery here. Simply access the archive with your log-in details. 
Would you like to receive print editions of Gems&Jewellery and The Journal of Gemmology straight to your door? Become a Gem-A Member today.
Do you have an idea for an upcoming Gems&Jewellery feature? Share your thoughts with our editorial team on editor@gem-a.com.
Cover image: The 422.66 carat Siren of Serendip blue sapphire set in a white gold and diamond necklace by jeweller Ingo Henn. Image courtesy of the Houston Museum of Natural Science.
Read more...