Gem-A at International Jewellery London 2019
International Jewellery London is just around the corner and all of us at Gem-A are hugely excited for what promises to be a scintillating showcase of jewellery and gemstones!
If you will be attending IJL 2019, we would like to invite you to join us at Booth F21, where you can meet our team, find out about our courses and try out some practical gemmology with our tutors!
While in recent years we were located in the upstairs section of the show, this year we are positioned at the front of the show (on the right hand side as you walk through the door) in a learning hub alongside the NAJ and The Goldsmiths' Centre.
Guide to International Jewellery London 2019
Sunday 1 September 2019
Presentation: Gem Empathy Award Winner 2019
Location: Gem-A Booth, F21
The entries have been judged and one lucky IJL exhibitor/visitor will be announced the winner of the Gem Empathy Award 2019 and take home the 12.9 carat precious coral cabochon sourced and cut by Enzo Liverino 1894.
Tuesday 3 September 2019
Seminar: Precious Coral & Sustainability
Location: Catwalk Theatre
Rui Galopim De Carvalho FGA DGA, Vice-President of the CIBJO Coral Commission, dives into the underwater world of precious coral and addresses some of the misunderstandings around its use in the jewellery industry.
Daily at the Gem-A Booth
Across all three days at IJL 2019 we shall be running in-booth gemmology training sessions at our Practical Gemmology Lab! These fun, 20-minute sessions run by our brilliant team of tutors will help you get to grips with the basics of gemstone identification:
10:30 am:  The Diamond Detective
Learn the basics of separating diamonds from its simulants and synthetics.
12:30 pm: A Gemmologist's Best Friends
Get the most out of your loupe, lights and the microscope.
2:30 pm: Become a UV Jedi
Master the use of UV to distinguish between similar-looking stones.
4:30 pm: Spot the Difference
Separate blue stones with the use of the dichroscope and Chelsea colour filter.
Are you a gem detective? Drop by the booth at any time and test your knowledge! Cast your eye over eight different blue stones and try to identify the gems! If you are new to gemmology you can get some help from our gemmology tutors or use the clues provided.
Exclusive Offers for IJL Visitors
We are pleased to invite you to take advantage of special discounts and offers, exclusively reserved for exhibitors and visitors at IJL, including 15% off Gem-A one-day workshops and our GemBasics course when you book at the show!
What's more, we are offering two fantastic instrument bundles at a significantly reduced rate – an offer only available at the show and while stocks last! IJL visitors and exhibitors can choose from:
Offer 1: The Filters Bundle
Includes: Chelsea colour filter, dichroscope, flat light and Maglite all for £75 inc. VAT, saving £23.40.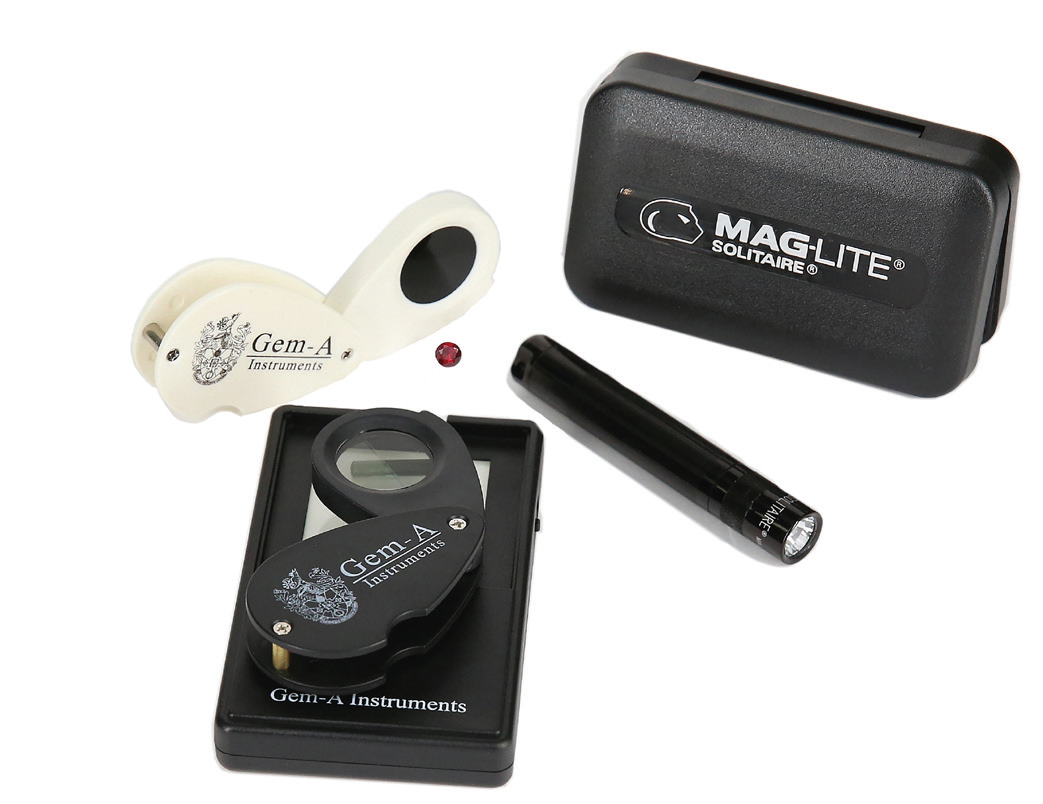 Offer 2: The Power Couple
Includes: A desktop microscope plus PhotoAtlas Vol. 3 for £1650 inc. VAT plus free UK shipping, saving £220.
We cannot wait to see some of the fascinating presentations lined up for the Inspire Seminar Programme, fresh designs from emerging talent and of course the amazing array of gems and jewellery on display. If you haven't already, head to the IJL website to register! We look forward to seeing you there!
We have some fantastic guest speaker events planned for October, including a workshop on Organics with Gem-A President, Maggie Campbell Pedersen FGA ABIPP and a workshop on The World of Antique Jewellery with jewellery historian and valuer, John Benjamin FGA DGA FIRV. To book tickets, head to the workshops webpage.