A First Time Visit to International Jewellery London 2019
Gem-A's communications assistant, Olivia Gillespie, reflects on her first experience at one of the UK's biggest jewellery trade shows, International Jewellery London.
Having never visited International Jewellery London before, it was difficult to know what to expect! Upon walking through the front door of Olympia London on Sunday, the opening day of the show, I was quite taken aback by the enormity of the venue and the masses of visitors and exhibitors already networking and eyeing the many dazzling jewels on display.
I was also quite surprised by the variety of exhibitors, ranging from jewellers and gem wholesalers, to watch dealers and educational institutions, and by how far some had travelled to be at IJL, with some being based as far afield as Denmark, Hong Kong and Canada. There was a veritable feast of jewels and gems to behold at IJL, but a few remarkable exhibits and events made an especially sparkling impression on me…
The amethyst 'Victoriana' necklace by Fei Liu Fine Jewellery.
International Jewellery London: Fine Jewellery Design
IJL 2019 had numerous exhibitors showing fine jewellery but I was particularly dazzled by the beautifully elegant statement jewels from Fei Liu Fine Jewellery. Fei Liu was showing his new collection, Victoriana, which is inspired by popular gemstones and stone cuts from the Victorian period, most notably the octagon cut, which featured in an exquisite suite of amethyst jewellery on display.
Two stunning statement rings by Fei Liu Fine Jewellery. Ring 1: 18 carat white gold ring set with a 17.35 carat green tourmaline and surrounded by 1.92 carats of tsavorites and 2.19 carats of baguette-cut diamonds. Ring 2:18 carat rose gold ring with a 9.35 carat garnet, 1.68 carats of diamonds and 4 carats of rutilated quartz.
I was utterly transfixed by two glorious rings on the brand's stand. The first is an 18 carat white gold ring set with a 17.35 carat green tourmaline and surrounded by tsavorites and baguette-cut diamonds, while the second is an 18 carat rose gold ring featuring a 9.35 carat garnet centre stone, flanked by 4 carats of rutilated quartz and bordered by diamonds.
Unusual Gemstones
As a member of the Gem-A family, I always get excited to see unusual coloured gemstones. I was very happy to get the chance to peruse the collection of gemstones exhibited by Ntinga, a London-based fine jewellery brand, which included a brilliant array of interestingly gems, including tanzanite, watermelon tourmaline, ametrine, iolite, indicolite and a fiery orange sunstone.
Sunstone from Ntinga
The IJL Catwalk
I made sure to pay a visit to the first catwalk of the day which showcased stunning jewels for women and men from the show's exhibitors. It was great to see British gemstones as well as British jewellers on display, as one of the models sported CW Sellors' silver and jet octopus ring and octopus pendant, bracelet and necklace on the catwalk. The huge Whitby Jet jewels on display at CW Sellors' stand also caught my eye, especially the somewhat spooky spider necklaces!
Whitby Jet jewellery from CW Sellors
Gem-A's Gem Empathy Award
The first day of IJL also saw the presentation of the Gem Empathy Award, an annual jewellery design competition run by Gem-A and hosted at IJL. Entrants were asked to conjure a design featuring this year's prize stone, a 12.9 carat precious coral cabochon sourced from Enzo Liverino 1894.
The winner of this year's award was student designer Bingjie Zhao for her magnificent ring design entitled 'Trawling'. Like the judges I also adored Bingjie's original and sophisticated design and look forward to seeing her future creations!
Pearls! Pearls! Pearls!
Another of my personal highlights had to be the amazing variety of pearls and pearl jewellery on display. It seemed like there was an ocean of pearls at the show, with wholesale suppliers such as Raw Pearls selling ropes of an amazing variety of pearls, including freshwater, Akoya, and Tahitian, in a sublime array of colours.
The new collection from Ora Pearls
Positioned near the entrance on the ground floor, it was difficult to walk by without stopping to gawp at Yoko London's divine fine pearl jewellery. At very much the high end of the market, Yoko London's jewels ooze luxury and many pieces shimmered and sparkled in diamond and white gold settings.
Another fabulous pearl jeweller exhibiting at IJL was Ora Pearls, who was showing a new collection of jewels with a focus on brilliantly large baroque pearls.
New Designers at International Jewellery London

It was very encouraging to see a spotlight on young and emerging jewellery designers at IJL and to see their fresh and unique creations on display. I also really enjoyed getting to speak to these designers and finding out about the inspirations behind their collections. Eloise Kramer told me about her intention to tell a story through jewellery with her nature-inspired pieces, explaining that her colossal resin and copper peach ring should be worn alongside her insect rings to create a scene of creatures swarming around an irresistible fruit.
Eloise Kramer's 'Peach Ring', made from copper and resin, accompanied by one of her 'Insect' rings.
Isla Gilham of Isla Gilham Jewellery was also attracting a lot of attention with her fantastically fun and colourful 'Jelly Tot Tiara', which swapped out gemstones for genuine jellies! Another piece which quite literally made me stop in my tracks was a show-stopping necklace from emerging fine jewellery brand Aureliean, which featured a huge sapphire surrounded by diamonds and smaller sapphires and set in 18 carat gold on a double strand of pearls.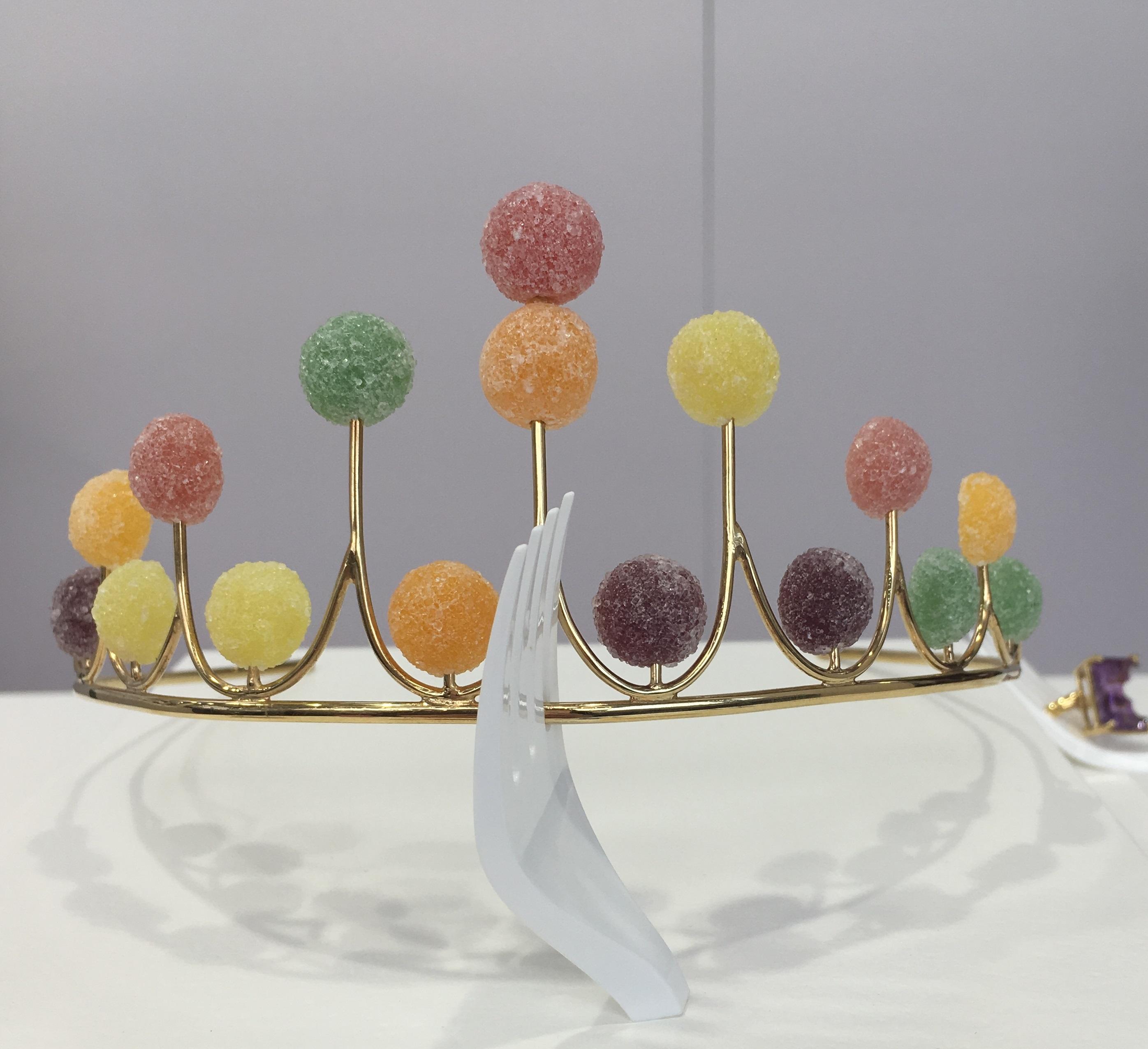 The 'Jelly Tot Tiara' by Isla Gilham Jewellery
Leading Lights Awards & Celebration
As I visited on the first day I was lucky to have been able to attend the drinks reception and Leading Lights Awards, a new addition to IJL for 2019. I found that the awards were a good way to highlight exceptional work from a range of disciplines within the industry – including jewellers, jewellery education providers and bloggers – and to celebrate the achievements of all exhibitors and everyone working behind the scenes to produce such a showcase of international jewellery.
All in all, I had a fantastic experience at International Jewellery London 2019; the variety of interesting jewels on display was a treat for the eyes and I especially loved having the opportunity to speak to designers about their creations and inspirations. I can't wait to see what next year brings!
Interested in learning more about gemstones? Check out our upcoming workshops.

Are you ready for the Gem-A Conference 2019? Find out more here.

Cover image: Fei Lui Fine Jewellery's 9.35 carat Garnet Ring in rose gold featuring diamonds and rutilated quartz.