Turkish Designer Özlem Tuna Named Gem-A's Gem Empathy Award Winner at IJL 2017
Gem-A is excited to announce that Turkish jewellery designer and International Jewellery London (IJL) Design Gallery exhibitor, Özlem Tuna, has won the 2017 Gem Empathy Award with her 'Dance of Branches' ring.
This year, IJL exhibitors from across the globe were tasked with creating a hand-drawn or CAD rendered design based around a beautiful, fancy-cut gemstone sourced from award-winning gem-cutter, John Dyer.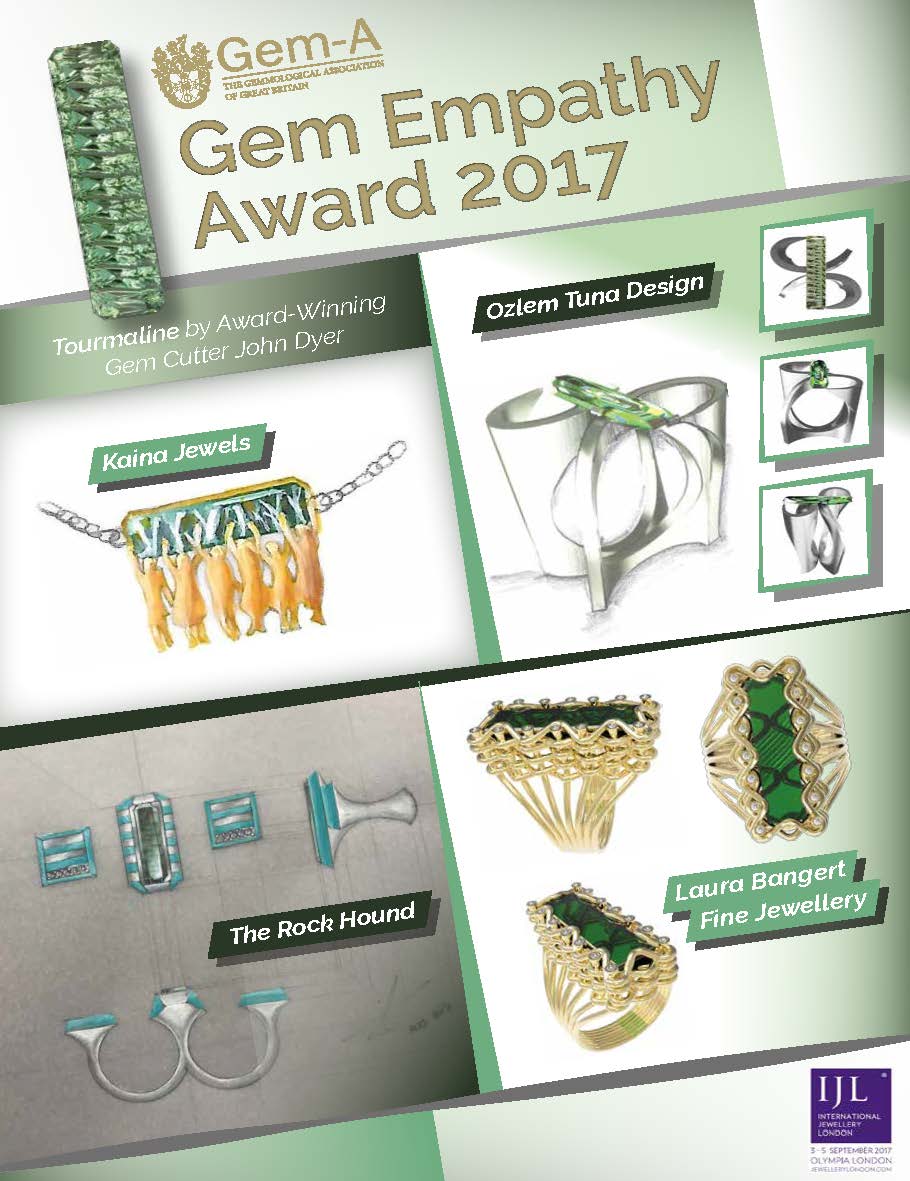 Finalists in the 2017 Gem Empathy design competition in partnership with International Jewellery London
The Gem Empathy judging panel, made up of Gem-A CEO Alan Hart, IJL Event Director, Sam Willoughby, Gem-A Chairman Maggie Campbell Pedersen, and guest judge Liza Urla of jewellery platform GEMOLOGUE, was tasked with selecting a design that uses the 4.14 carat zig-zag green tourmaline in the most innovative and captivating way.
Despite stiff competition from a number of emerging designer-makers and brands, Özlem Tuna of Özlem Tuna Design was unanimously selected as the winner of the competition for her 'Dance of Branches' ring.
The sculptural piece was inspired by nature and features two curved bands in either 18k green or white gold, designed to look like the branches of trees moving in the wind. These bands of gold meet at the green tourmaline gemstone, which appears to float above the surface of the precious metal like leaves on a tree.
Dance of Branches ring by Özlem Tuna
Judges praised the design for its architectural, yet fluid shape and the prominence afforded to John Dyer's striking fancy-cut gemstone.
Gem-A CEO Alan Hart commented: "I was instantly attracted to Özlem Tuna's design, which not only showcases John Dyer's eye-catching zig-zag cut tourmaline to great effect, but also offers a contemporary, sculptural aesthetic reminiscent of a work of art. We are pleased to continue the tradition of Gem-A's Gem Empathy Award at IJL, and we look forward to seeing the 'Dance of Branches' ring come to life very soon."
Özlem Tuna Design advocates sustainable design and cultural preservation through its contemporary jewellery and homeware collections, which have been designed, produced and sold in the Historical Peninsula area of Istanbul since 2003.
John Dyer's zig-zag cut tourmaline, presented to Özlem Tuna Design at IJL 2017
Commenting upon the winning design, Brand Manager at Özlem Tuna Design, Fatos Burcoglu said: "It is my honour to work with a Turkish jewellery design who has now won the 2017 Gem Empathy Award. This accolade highlights the success of Turkish designers. Now, our aim is to continue to showcase the existence of Turkish designers across the world and encourage their proliferation and success."
The Özlem Tuna Design team was presented with the 2017 Gem Empathy Award and the striking green tourmaline gemstone at IJL on Tuesday, September 5. The brand will now bring its winning design to life and the final piece will be unveiled at a future Gem-A event.
Interested in finding out more about gemmology? Sign-up to one of Gem-A's courses or workshops
If you would like to subscribe to Gems&Jewellery and The Journal of Gemmology please visit Membership
Main image from L-R: IJL marketing manager, Leigh Martinez, Gem-A CEO, Alan Hart and Gem Empathy Award winner, Özlem Tuna.